Bectron® PL 4122 E BLF
Bectron® PL 4122 E BLF is a transparent coating varnish based on modified alkyd chemistry. The development of Bectron® PL 4122 E BLF meets the latest requirements of electronics, low pin corrosion and fast curing at low temperature. Bectron® PL 4122 E BLF is lead free and has no aromatic compounds in the solvent. The varnish features superior performance in thermal and dielectric properties even under environmental stress.
The coating varnish is available in the following grades:
3 solids/viscosity levels for every application system:
../37 E BLF..
../40 E BLF..
../45 E BLF..
Colour addition for quality control:
..E BLF (colourless)
..E BLF orange (transparent)
..E BLF FLZ (fluorescent)
Bectron® PL 4122 E BLF Applications
Coating of electronics:
PCB's used in automotive and marine navigation
hybrids
SMD devices
discrete components
Features Temperature stability
Very high-temperature index of 134°C.
Combustion behavior
Bectron® PL 4122 E BLF is listed by UL (Underwriters Laboratories) under the File-No. E 211569
Dielectric properties
High volume resistivity including humid conditions.
Film thickness
Very good dielectric properties maintained in very thin films.
Environmental influences
Components varnished with Bectron® PL 4122 E BLF provide maximum protection against mechanical stress, contaminants, moisture, dust and corrosive gases.
Chemical resistance
Excellent resistance to moisture, weak acids and alkalis, fuels and oils in the automotive and shipping industry.
Curing
Air curing at 23°C for 16h, Accelerated curing 80°C/0,5h.
Adhesion
Excellent adhesion to printed circuit boards, even after several temperature cycles -40°C/+130°C.
Processing
The coating varnish Bectron® PL 4122 E BLF can be applied by dipping, brushing or spraying. The recommended viscosity for spraying correlates to 60 seconds in 4-mm-cup. (DIN/EN/ISO 2431 )
For dipping, thinner 239 can be added to obtain the recommended viscosity. A single coating ensures good dielectric insulation and complete protection against humidity.
The surface of the dip tank should be as small as possible. If the tank is not in use it should be kept closed to prevent oxidation of the varnish surface. In order to achieve satisfactory wetting and fault-free adhesion of the coating varnish, it is important to ensure compatibility with the solder resist, paste and flux.
Should an exchange of components in the assembled printed circuits boards be necessary the use of Cleaning Agent AC 93 is recommended. This product is especially suited for the partial removal of coating varnishes as well as the cleaning of equipment parts.6 fluid ounce cartridges.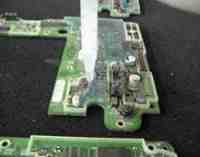 Plasma Ruggedized Solutions is a diversified global technology leader in the engineered application of advanced coatings and encapsulants