Loctite Snap Cure 3563 Underfill
Product Description
LOCTITE® Product 3563 Snap Cure Underfill is a rapid curing, fast flowing, liquid epoxy designed for use as a capillary flow underfill for flip chip devices. It is designed for very high production where process speed is the key concern. This product cures on exposure to heat. It's rheology is designed to allow it to penetrate gaps as small as 1 mil. This material is easily dispensed, minimizes induced stresses and provides improved temperature cycling performance and excellent chemical resistance.
Typical Applications
Flip Chip Underfill applications. Product 3563 is suitable for bare chip protection in a variety of advanced packages such as memory cards, chip carriers, hybrid circuits and multi-chip modules.
General Information
This product is not recommended for use in pure oxygen and/or oxygen rich systems and should not be selected as a sealant for chlorine or other strong oxidizing materials. For safe handling information on this product, consult the Material Safety Data Sheet, (MSDS).
Directions for use
This product has a typical work life of one shift (8-12 hours). For best results, the application substrate should be preheated, typically to 100ºC. Although not required, the dispense nozzle may be preheated (30ºC to 50ºC maximum) in order to decrease viscosity/increase flow speed. It is important to note that flow speed is significantly increased by preheating the substrate, but only slightly increased when using nozzle heat.
System pressure should be moderate (15 to 40 psi). Dispense speed should also be moderate (0.10 to 0.50 inch/sec.). In addition, the dispense platform should be able to maintain the needle tip approximately 1-3 mils off the substrate surface and 1-3 mils offset from the chip edge. This will ensure maximum underfill flow consistency.
The dispense pattern for small die applications (1/4") is typically single side or single corner only, with no secondary dispense or final perimeter bead required. The low viscosity and excellent wetting characteristics of this product allow the material to "self-fillet" along the opposite edge of the die. The typical cycle time for dispense, capillary flow and fillet formation (on a PCB substrate preheated to 100ºC) is less than 10 seconds. The actual flow duration is typically 2-5 seconds.
The dispense pattern for larger die applications is typically an "L" pattern along 2 sides, focused at the corner. The flow pattern should be designed to start at the location farthest away from the chip center, which helps assure a void free fill underneath the die. In addition, the dispense pattern may require a 2nd or 3rd bead with time delay for flow underneath the chip. A final perimeter bead/fillet may be dispensed to ensure uniform stress distribution at the chip edges. The typical flow time for a large die application is 10-20 seconds.
For assistance, with your application, please contact your local Technical Service Center.
Clean-up
Uncured material may be cleaned from dispenser components and surfaces with a variety of solvents; including Loctite
Product 7360, Loctite Equipment Flushing Solvent (12121), IPA, acetone, MEK, methylene chloride, etc. Always wash and dry thoroughly prior to re-use of dispenser components. The cleaning technique should be active cleaning of the components - flush, wash, or wipe, followed by a drying step to ensure a clean dry surface. Do not soak since this can solubilize the hardener within the uncured resin and curing, (very difficult to remove). Contact your equipment supplier to ensure the solvent is compatible with their components. Clean and maintain dispense valves as recommended by the equipment manufacturer.
Storage
Product shall be ideally stored at -40ºC for maximum shelf life. Product is supplied in 10 or 30 ml syringes (larger size cartridges are made to order) compatible with pressure/time and positive displacement dispense platforms. Remove syringe from freezer and set aside, allow to thaw at room temperature until it reaches room temperature (90 minutes maximum for 30 ml syringes). To prevent contamination of unused product, do not return any material to its original container. For further specific shelf life information, contact your local Technical Service Center.
Data Ranges
The data contained herein may be reported as a typical value and/or range. Values are based on actual test data and are verified on a periodic basis.
Note
The data contained herein are furnished for information only and are believed to be reliable. We cannot assume responsibility for the results obtained by others over whose methods we have no control. It is the user's responsibility to determine suitability for the user's purpose of any production methods mentioned herein and to adopt such precautions as may be advisable for the protection of property and of persons against any hazards that may be involved in the handling and use thereof. In light of the foregoing, Loctite Corporation specifically disclaims all warranties expressed or implied, including warranties of merchantability or fitness for a particular purpose, arising from sale or use of Loctite Corporation's products. Loctite Corporation specifically disclaims any liability for consequential or incidental damages of any kind, including lost profits. The discussion herein of various processes or compositions is not to be interpreted as representation that they are free from domination of patents owned by others or as a license under any Loctite Corporation patents that may cover such processes or compositions. We recommend that each prospective user test his proposed application before repetitive use, using this data as a guide. This product may be covered by one or more United States or foreign patents or patent applications.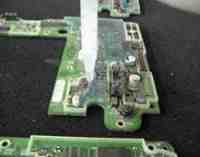 Plasma Ruggedized Solutions is a diversified global technology leader in the engineered application of advanced coatings and encapsulants