Humiseal 1C49
Silicone Conformal Coating
A moisture curing, high build, 100% solids single component silicone coating providing excellent moisture and environmental protection for printed circuit assemblies. Solvent-free, 1C49 has no significant VOC. The final film demonstrates excellent flexibility and is repairable. This coating is qualified to MIL-I-46058C, Type SR. Fluoresces under UV light for ease of inspection. The coating can be cured at room temperature or elevated temperature with a pan of water. UL recognized under the components program at Underwriter's Laboratory; File No. E105698.
Application
Cleanliness of the substrate is of extreme importance for the successful application of a conformal coating. Surfaces must be free of moisture, dirt, wax, grease and all other contaminants. Contamination under the coating will cause problems, which may lead to assembly failures.
HumiSeal 1C49 Applied by Brush, Dip, or Spray
Brushing
Uniformity of the film depends on component density and operator's technique. 10 to 20% dilution with HumiSeal thinner 800 is beneficial for getting 1C49 in between and beneath components
Dipping
Depending on the complexity, density and configuration of the components on the assembly it may be desirable to reduce the viscosity of HumiSeal 1C49 with HumiSeal thinner 800. A controlled rate of immersion and withdrawal (2" to 6" per minute) will insure even deposition of the coating and ultimately a uniform film. Dip tank viscosity of diluted HumiSeal 1C49 should be regularly checked using a simple measuring device such as Zahn or ford viscosity cup. Blanketing dip tanks with dry gas like nitrogen can extend pot life.
Spraying
HumiSeal lC49 may be sprayed using some types of spraying equipment designed for high viscosity coatings. Conventional spray equipment may leave bubbles in cured HumiSeal 1C49 coatings regardless of the amount of thinner used. When in doubt, test spray equipment before spraying production boards. Spraying should be done under an exhaust hood so that the mist is carried away from the operator.
Storage
HumiSeal Type 1C49 should be stored at 26°C or below, away from excessive heat, in tightly closed containers. If coating is partially used, the container should be purged with dry nitrogen prior to resealing. Refrigeration of unused material will significantly extend shelf life. Avoid direct sunlight. Prior to use, allow the product to equilibrate for 24 hours at 18-32°C.
Caution
Avoid inhalation of spray. Use only in well-ventilated areas. Avoid contact with skin and eyes. If contact occurs, wash with soap and water. If swallowed, call a physician immediately. Refer to MSDS before use.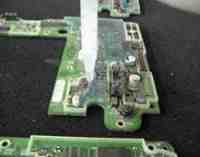 Plasma Ruggedized Solutions is a diversified global technology leader in the engineered application of advanced coatings and encapsulants