Plasma Repair Services & Support
Plasma Ruggedized Solutions provides sales and service support for plasma equipment. We have over 20 years' experience in equipment sales and plasma repair services.
While there is a wealth of new equipment available for our industry, we often find that older equipment was built to a higher standard of excellence than more modern machines. Plasma Ruggedized Solutions repairs and refurbishes older coating equipment to OEM operating specifications. Whether it's as simple as cleaning up the machine and adding a fresh coat of paint, or as complex as a complete teardown and rebuild with all new parts, we make old plasma equipment new again.
Not only do we refurbish these machines, we add improvements and new functions wherever possible to allow the equipment to achieve the higher levels of consistency and quality required of modern coating processes. Plasma Ruggedized Solutions refurbished and rebuilt equipment offers higher reliability and better coating quality that what you'll generally find in new machines. We then sell these refurbished machines at a lower cost than similar new equipment.
Plasma Ruggedized Solutions also provides repair and servicing for any equipment we sell, as well as service for nearly any machinery you'll find available for our industry. We can perform repairs and/or part replacements for:
Power generators
Vacuum pumps
Vacuum boosters/blowers
Hardware
Solenoids
Valves
Filters
Replacement of oils, fluids, etc.
and much more
We also offer a unique level of design support, to add new functionality and features to your existing equipment. There is almost no limit to what we can do in this area; we even write our own software and develop our own control systems for this equipment, to optimize efficiency and productivity. Plasma Ruggedized Solutions offers this design support for any equipment used in our industry. Taking our design support a step further, we can also design and have built completely new equipment and machinery to perfectly match a customer's usage needs.
Contact PRS Today for Plasma Equipment, Plasma Repair, & More
Contact Plasma Ruggedized Solutions for more information about our plasma equipment sales and plasma repair services.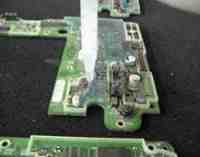 Plasma Ruggedized Solutions is a diversified global technology leader in the engineered application of advanced coatings and encapsulants