Form-in-place Sealing Compounds: ParPHorm S1936, S1945, L1938
ParPHorm is a family of non-conductive, thermal cure, form-in-place, elastomeric sealing compounds. These silicone and fluorosilicone materials provide environmental, fluid, and dust sealing of small enclosures. The product line consists of state-of-the-art compounds designed to be robotically dispensed onto small housings and then thermally cured. Curing of the dispensed materials is done via in-line ovens at 230o F for 40 minutes. Dispensed bead heights range from 0.018 in. (0.46 mm) to 0.13 in. (3.94 mm). Application advantages of the materials are resistant to a wide variety of fluids, excellent substrate adhesion, low hardness, and outstanding compression set properties.
Features of Form-in-Place Sealing Compounds
One component thermal cure materials
Excellent resistance to a wide variety of fluids
Excellent adhesion to a wide variety of substrates
Low material and installation costs
ParPHorm S1936
ParPHorm S1936 is a silicone FIP elastomer with moderate hardness (Shore A 45) and superior compression set (<10%). This material is formulated for applications requiring repetitive open/close cycles. It is also well suited for fuel cell applications where resistance to methanol and de-ionized water is important.
ParPHorm L1938
ParPHorm L1938 is a fluorosilicone FIP elastomer with Shore A hardness of 45 and compression set rating of 14%. This fluorosilicone material offers additional fluid resistance capabilities above and beyond the capabilities of S1936 and S1945. Applications for ParPHorm materials include handheld electronic module housings, battery cases, industrial gauges, fuel cells, and other enclosures requiring small dispensed elastomer seals for environmental or fluid sealing. Chomerics offers worldwide capabilities for dispensing of these materials onto customer supplied housings. Chomerics can also provide supply chain management of the process and source the housings along with ParPHorm dispensing and finishing operations such as painting and minor mechanical assembly.
ParPHorm S1945
ParPHorm S1945 is a silicone FIP material with lower hardness (Shore A 25) and excellent compression set (21%). ParPHorm S1945 is especially designed for low closure force applications and those requiring exceptional adhesion properties. Due to its minimal hardness, S1945, is one of the most widely used ParPHorm materials and thus has extensive application in many areas. The compound adheres well to the following substrates: aluminum, phenolic resins, copper, stainless steel, glass, rigid PVC, most ceramics, and various plastics. ParPHorm S1945 is compatible with the following mediums: air below 400o F, ethylene glycol, nitrogen, sea (salt) water, magnesium sulfite and sulfate, citric acid, methanol, ozone, soap solutions, zinc salts and zinc sulfates, potassium chloride/nitrate, barium chloride/hydroxide/salts, sodium chloride/salts/sulfates, and glycols.
Handling and Curing Of Material
ParPHorm S1936, S1945, and L1938 are one component, thermal cure materials. Recommended cure temperature is 230o F for 40 minutes. The full cure cycle of 40 minutes allows for immediate handling, and performance of necessary QC tests. The use of this thermal cure, form-in-place material reduces the need for dispensed parts storage space. This also allows for immediate packaging and shipment of parts to their final destination for subsequent integration into the equipment assembly process.
Design and Prototyping
Application and design assistance is available to prospective customers. The specific focus of the assistance is on the examination/identification of design issues with regard to the substrate. These design issues include: enclosure material and surface finish, available gasket placement area, part flatness, transitions in the layout of the dispensed bead, obstructions in the design of the enclosure to the unimpeded travel of the dispense needle, and z direction dispense needs. Prototype dispensing is available on sample parts or sample coupons for customer evaluation.
Material Dispensing
ParPHorm is easily dispensed from a variety of commercially available gasket dispense systems. In addition to Chomerics' existing worldwide network of Cho-Form applicators, our Cho-Form applications group can provide support for material dispense needs worldwide for customers wishing to utilize their own or other dispense equipment.
Packaging
ParPHorm can be packaged in 30 cc syringes, as well as 6 and 12 fluid ounce plastic cartridges. Customer sampling of wet material is typically provided in either 30 cc syringes or 6 fluid ounce cartridges.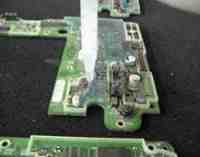 Plasma Ruggedized Solutions is a diversified global technology leader in the engineered application of advanced coatings and encapsulants