Formulated Materials
Plasma Ruggedized Solutions now develops new materials in-house for our conformal coating, potting and encapsulation, and other processes. 
Custom Material for Your Unique Application
While many of our readily-available materials are ideally suited to most customer requirements, there is not always a perfect "standard" material for every job. Some applications can be carried out perfectly with standard materials, but others require something more specialized. Our materials development processes give us the unique ability to create the perfect material to match your project's exact specifications.
By offering tailor-made coating materials, Plasma Ruggedized Solutions can deliver higher quality finished products at comparable prices. Our custom materials give you a better product, with higher reliability, longer life expectancy, and fewer service issues. These qualities will give you a distinct advantage over your competition—nothing encourages sales and brand loyalty like better, more dependable products.
We started with the development of new materials for our potting and encapsulation services. By pairing our custom potting and encapsulation materials with new, in-demand products, Plasma Ruggedized Solutions is looking to open the market to more new materials. This gives our customers the opportunity to branch out from the current "industry standard" coating materials which, while functional and readily available, are not necessarily the ideal materials for a given application.
Specially-Formulated Coating, Potting & Encapsulation Solutions
Plasma Ruggedized Solutions' proprietary, American-made potting material, Kryptos, is designed to provide better overall properties than "standard" materials. This substance creates a better-finished product with greater reliability. 
Additionally, we are currently developing high-end potting and encapsulation materials for use with products that must meet FIPS requirements, perform in high thermal environments, operate in extremely low temperatures, and meet the needs of other specialized applications.
We are also working to create new-and-improved underfill materials, like our highly effective Kronos. Currently, materials for the underfill process are available only from a select few suppliers, and these materials don't always offer the specific properties needed for the project at hand. With that in mind, we are working to develop materials that are better than what's available now, to give our customers a better end product.
Plasma Ruggedized Solutions is always working to improve our current coating, encapsulation, and other processes through materials development. As our market evolves, we plan to remain at the forefront with new, better materials that meet the ever-rising standards of the industries we serve. With the development of next-generation materials, we can continue to reach new levels of excellence.
Contact Plasma Ruggedized Solutions About Kryptos and Kronos Today
Contact us today for additional information about our materials development programs and how our new materials can be used in your next project.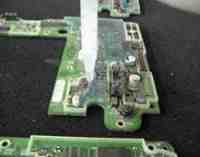 Plasma Ruggedized Solutions is a diversified global technology leader in the engineered application of advanced coatings and encapsulants