Circalok 6007: Thermally Conductive Adhesive and Potting Compound
The epoxy formulation described herein was developed by our laboratory to meet a specific customer requirement. The values listed below are averages and they are not intended for specification purposes. Contact Lord when establishing specifications.
CIRCALOK 6007A/6252B Description
Black, Two Component Epoxy
Mix Ratio
BY WEIGHT: 100 parts Circalok™ 6007 A to 10 parts Circalok™ 6252
Cure Schedule
AT 65°C: 2 hours
AT 100°C: 1 hour
Ionics/Ppm
FLUORIDE: <10
CHLORIDE: <25
SODIUM: <45
POTASSIUM: <3
Handling Precautions
The labels on containers of Lord materials contain current information on the hazards associated with each particular product. Most epoxy resins and hardeners are skin and eye irritants, and some may actually be corrosive to the skin and eyes. Other problems, such as skin sensitization or serious health hazards may exist. Further information on each product is contained in the Material Safety Data Sheet, which will be sent upon request.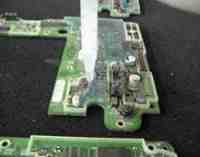 Plasma Ruggedized Solutions is a diversified global technology leader in the engineered application of advanced coatings and encapsulants