Plasma Field Repair Services
In addition to our in-house plasma repair services, Plasma Ruggedized Solutions also performs service calls to repair our customers' equipment. From simple repairs to machinery overhauls and rebuilds to emergency repair situations, we perform field service repairs all across the country and in locations around the world. From our smallest customers to large, multinational corporations, from California to Illinois to Malaysia to Japan, Plasma Ruggedized Solutions' knowledgeable and experienced staff offers world-class plasma repair services.
We offer repair and servicing for the refurbished and rebuilt machines that we sell, as well as the newest equipment on the market. Unlike many companies that offer plasma repair services, we also offer support for older machinery in the field. Our 20+ years of experience in plasma repair gives us unique knowledge of this older equipment, and our repair archive contains the original operating and service manuals for a vast number of older plasma machines.
Plasma Ruggedized Solutions also maintains a support product stream for components for older systems. We stock a large number of OEM parts and components for both old and new plasma equipment. We also have the capabilities to fabricate, or have fabricated elsewhere, "new" parts for older machines. We can create structural members, electrical members, and more—almost any part our customers may need—for plasma equipment dating back to the early 1980s.
Additionally, we can fabricate parts and components to retrofit older equipment with newer, more advanced functions. Plasma Ruggedized Solutions designs new software and hardware in-house, to update old plasma machines to meet modern production standards. Older equipment also often requires new safety upgrades, which we can retrofit onto these systems, as well. Retrofitting and refurbishing older equipment is far more cost effective than purchasing new machines.
Some of the largest electronics company in the world relies on our repair expertise, and you can too!
Contact PRS Today for Field Service Repair & More
Contact Plasma Ruggedized Solutions for more information about our field service repair and overhaul processes.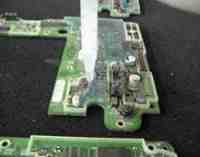 Plasma Ruggedized Solutions is a diversified global technology leader in the engineered application of advanced coatings and encapsulants