Humiseal 1C51
Silicone Conformal Coating
HumiSeal 1C51™ is a one part, 100% solids, fast thermal curing Silicone coating. The low viscosity and long pot life of HumiSeal 1C51™ makes it ideal for dipping and spraying. At 100% solids, HumiSeal 1C51™ is VOC-free and the final film demonstrates excellent flexibility and is easily repairable and contains an optical brightener for inspection under black light. HumiSeal 1C51™ coating is MIL-I-46058C and IPC-CC-830 qualified and recognized under the components program at Underwriter's Laboratory; File No. E105698.and is in full compliance with the RoHS Directive (EU Directive 2002/95/EC).
Application
Cleanliness of the substrate is of extreme importance for the successful application of a conformal coating. Surfaces must be free of moisture, dirt, wax, grease and all other contaminants. Contamination under the coating will cause problems which may lead to assembly failures.
HumiSeal 1C51™ Applied by Brush, Dip or Spray
Thinning is not required.
Dipping
A controlled rate of immersion and withdrawal (2" to 6" per minute) will insure even deposition of the coating and ultimately a uniform film.
Spraying
HumiSeal 1C51™ can be sprayed using conventional spraying equipment. Spray pressure will depend on the specific type of spraying equipment used. The spraying should be done under an exhaust hood so that the mist is carried away from the operator. The use of thinner is not required for HumiSeal 1C51™.
Brushing
HumiSeal 1C51™ may be brushed. Uniformity of the film depends on component density and operator's technique.
Storage
HumiSeal 1C51™ should be stored at 80°F or below, away from excessive heat, in tightly closed containers. Storage of Humiseal 1C51™ under refrigeration will extend its shelf life. Avoid direct sunlight. Prior to use, allow the product to equilibrate for 24 hours at room temperature.
Curing
HumiSeal 1C51™ is a thermally cured conformal coating. The actual curing temperature of Humiseal 1C51™ is dependent upon several parameters such as heat sink characteristics of parts being coated, the type of oven used for curing process, as well as oven loading parameters.
NOTE: Thermal curable silicones may be cure inhibited by a variety of materials i.e.; amines, acrylates, certain ingredients from latex rubber etc. It is recommended that process and materials compatibility be considered when incorporating HumiSeal 1C51™ into the production environment. Cotton gloves are recommended for operators that will be handling assemblies prior to coating with HumiSeal 1C51™.
Caution
Avoid inhalation of spray, use only in well-ventilated areas. Avoid contact with skin and eyes. If contact occurs, wash with soap and water. If swallowed, call physician immediately. Refer to MSDS before use.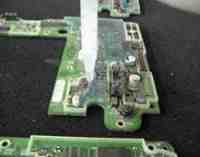 Plasma Ruggedized Solutions is a diversified global technology leader in the engineered application of advanced coatings and encapsulants