Kryptos-17™ Epoxy Resin Potting Material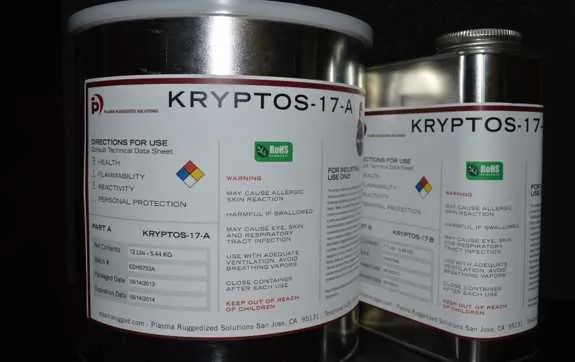 For applications that require reliable operational protection in harsh environments, PCB potting material provides exceptional protection from aggressive environmental influences. Epoxy resin potting also offers vibration, chemical, and corrosion-resistance for electronic assembly protection. Kryptos-17™ is Plasma Ruggedized Solutions' new, proprietary, two-part electronic potting material (2K resin systems). Formulated by our own chemical engineers, Kryptos-17™ is designed to deliver better overall properties than available "standard" epoxy resin potting materials.
Kryptos-17™ provides a better-finished product with greater reliability than other electronic potting materials. This state-of-the-art epoxy casting resin is designed to meet the physical security requirements of FIPS 140-2 and FIPS 140-3 for encapsulating materials. It is designed for both indoor and outdoor applications.
Kryptos-17™ Data Sheets and Technical Information
Tin Whisker Mitigation Benefits
Kryptos-17™ epoxy resin material inherently provides effective tin whisker mitigation. Tin whiskers can cause component electrical malfunctions and complete system failures. Growth of tin whiskers can result from environmental stresses such as plating chemistry or temperature cycling. While the cause of tin whiskers has not been established, there are ways of mitigating them, including epoxy resin potting. Epoxy resin material benefits include higher temperature resistance and a high level of protection for PCBs versus conformal coating protection.
Epoxy resin materials also provide very good resistance to water, salt spray, inorganic acids, bases, and most organic solvents. Kryptos-17™ exhibits good wetting and adhesion to most substrate surfaces and is free-flowing to penetrate voids and provide good air release for complete, uniform encapsulation.
Epoxy Resin Potting Material Applications
Epoxy resin potting materials offer protective benefits for a wide range of applications, including:
Construction
Electrical
Military
Plasma Ruggedized Solutions offers Level 1-4 Federal Information Processing Standards (FIPS) compliance services. Our FIPS capabilities will ensure that your hardware meets or exceeds FIPS compliance certification standards for physical security. We also offer guidance in FIPS compliance and support throughout the certification process.
Learn More About Kryptos-17™ Electronic Potting Material
As a customer-centric FIPS compliant company, Plasma Ruggedized Solutions has the manufacturing capabilities and epoxy resin potting expertise to protect your PCB from challenging environments.  Contact Plasma Ruggedized Solutions for more information about our high performance, custom-formulated Kryptos-17™ epoxy resin potting material.