Ionic Contamination Testing
The overall cleanliness of an assembly prior to coating is very important. Conformal coatings are meant to be filters against contamination—if a component already has contaminants on its surface, no amount of coating will protect it from the damage these contaminants can cause. Plasma Ruggedized Solutions offers ionic testing to check for conductive contamination on the surface of PCBs prior to coating. This testing will help determine an assembly's likelihood for electrical or physical failure, and the potential for loss of coating adhesion.
There is a wide variety of flux types used for the soldering process within the industry, and each process can leave its own unique contaminants behind. Ionic contaminants have the greatest propensity to cause failures over time. Ionic contamination testing and cleaning successfully removes most all other non-ionic contaminants. Plasma Ruggedized Solutions' ionic testing service is a fast, efficient, low-cost method of ensuring the quality of the end product you receive. Ionic contamination testing is performed to industry standards for cleanliness.
Plasma Ruggedized Solutions uses resistance testing to determine the ionic contaminants present on circuit board assemblies and other components. This assures the highest-possible quality of the products we receive for coating. The ionic contamination testing will determine what method of cleaning would be best suited for the assemblies, followed by an ionic cleaning service to complete the process. After cleaning, we retest the components to verify success. At many points in the conformal coating process, we can perform ionic contamination testing as a quality control tool.
Ionic Contamination Testing Before Conformal Coating Services
We offer ionic contamination testing prior to our in-house conformal coating processes, but the ionic testing services are also available to customers who wish to test the quality of the products they're receiving from contract manufacturers. We can usually deliver same-day or 1-day turns for ionic contaminant testing. This is a quick, inexpensive way for our customers to determine the level of cleanliness they've received before continuing their production processes. Plasma Ruggedized Solutions' ionic contamination testing and cleaning services can detect and remove any number of common contaminants created in the manufacture of PCBs and other components. These include:
Chloride
Fluoride
Potassium
Sodium
and many others
Ionic Testing Across Industries
Our ionic testing services are ideal for high-level, non-standard products, including assemblies used in military, aerospace, medical, solar energy, and other non-consumer industries, and for long-life consumer products.
Plasma Ruggedized Solutions' ionic contamination testing is an extremely safe, efficient test method for PCBs and other products. The methods and chemicals used are all environmentally friendly, creating an exceptionally green overall process. Our ROSE (Resistivity Of Solvent Extract) testing procedures meet or exceed all applicable industry standards for cleanliness, including MILC-28809, IPC 600, IPC 610.
Contact Plasma Ruggedized Solutions for Ionic Testing and More
Contact Plasma Ruggedized Solutions today for more information about our ionic contamination testing services.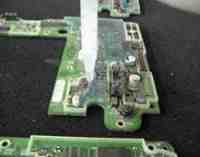 Plasma Ruggedized Solutions is a diversified global technology leader in the engineered application of advanced coatings and encapsulants