Canapoxy FR-1810 A/B Kit
CONAPOXY FR-1810 is a flexible two-component, low exotherm, flame retardant, long pot life epoxy potting and casting system with excellent handling properties.
RoHS Compliant CYTEC CONAPOXY FR-1810
CONAPOXY F R-1810 contains a non-abrasive filler to reduce wear on machine metering/ dispensing equipment. CONAPOXY FR-1810 has been tested by Underwriters Laboratories to be RoHS compliant and recognized to UL 94V-0.
Handling and Storage Instructions
PR-1810 has a shelf life of 12 months from date of manufacture when stored in the original unopened containers at 700 1k'-85 0 F. FIR-1810 Part A and Part B contain fillet which may settle during storage. It is recommended that both components be thoroughly mixed before use.
Caution
Responsible handling of Cytec Industries Inc. products requires a preview of safety, health, and environmental issues prior to use. Review the Material Safety Data Sheets(s) for the specific Cytec Industries Inc. product(s) and container label information before opening containers. Ensure that employee exposure issues are communicated to all workers, and controls are in place to prevent exposures above Permissible Exposure Limits (P,E,L,'s). Review safety and environmental issues to be certain controls are in place to prevent injury to employees, the community, the environment, and ensure compliance with all applicable Federal, State, and Local laws and regulations. For assistance in this review process, please call your Cytec Industries Inc. representative or our office below.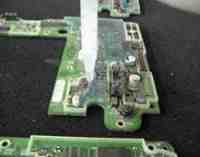 Plasma Ruggedized Solutions is a diversified global technology leader in the engineered application of advanced coatings and encapsulants