Loctite FP4531 Underfill
HYSOL®FP4531: Snap Cure, Fast Flow Underfill
Hysol® FP4531 is a fast flow material for flip chip and CSP underfill applications with a gap of 1 mil or larger. The material is designed to snap cure within 7 minutes at 160°C, even with a preheat application temperature as high as 90°C.
Handling
Frozen storage at approximately-40°C, or lower is required for maximum shelf life. Allow material to reach room temperature before use. For best results in dispensing, a 21 gauge needle should be used at 10 psi pressure. For best flow rates, a preheat temperature of 90°C is recommended.
Cure Schedule
Use suggested cure conditions as general guidelines. Other cure conditions may yield satisfactory results.
Recommended Cure: 7 minutes at 160°C
With all fast cure systems, the minimum required time for cure depends on the rate of heating. Conditions, where a hot plate or heat sink is used, are optimum for fastest cure. Cure rates depend on the mass of material to be heated and intimate contact with the heat source.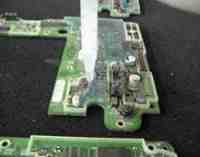 Plasma Ruggedized Solutions is a diversified global technology leader in the engineered application of advanced coatings and encapsulants