Ball Grid Array (BGA) Underfill & Repair Services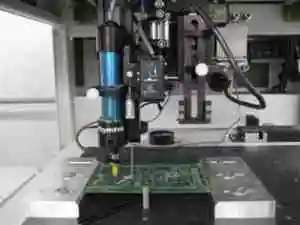 CNC Machine Ensures Accuracy and Repeatability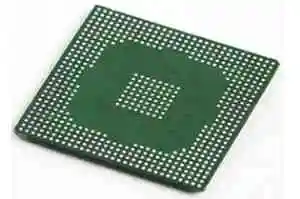 BGA Underfill Candidate
As an industry-innovating company, Plasma Ruggedized Solutions can underfill any Ball Grid Array (BGA) components, using a variety of underfill materials. Our BGA underfill service protects sensitive circuit board assemblies against damage from thermal and various other environmental threats. Aircraft, automotive and medical electronics, that may frequently be subjected to severe shock and vibration benefit greatly from this process as our internally developed underfill material, Kronos-10, contains exceptional adhesive agents in its formulation.
For specific application questions, please contact us to discuss your BGA underfill needs.
Manual and Automated Underfill Circuit Board Assembly Options
Plasma Ruggedized Services offers manual and automated BGA underfill processes in an effort to provide our customers with the best underfill service. We determine which components of your electronic assembly are potentially sensitive and in need of underfill, then choose the proper underfill material and BGA underfill process for your circuit board assembly.
We work closely with our materials suppliers to deliver the best options and will help select the ideal materials for your specifications. Our underfill application and curing processes are adaptable to the needs of the project at hand. The processes can be adjusted and readjusted until we arrive at the optimal process for your PCB assembly application.
The BGA Underfill Process
Ball Grid Array (BGA) is a type of surface-mount packaging used for circuit board assemblies. It is also used to permanently mount microprocessors and other devices.  BGA allows for more interconnection pins than dual in-line or flat packages because the entire bottom surface can be utilized rather than just the perimeter. Since the interconnects are fragile and susceptible to damage from moisture and impact, BGA underfill is used to protect the circuit board assembly by creating sounder thermal and mechanical properties.  
Our BGA underfill process primarily utilizes epoxies as the underfill substance, though acrylic and silicone materials are not uncommon. Our proprietary underfill material provides superior moisture and thermal cycling performance and provides stable attachment of the component to the PCB. The underfill process includes:
Underfill is applied either on a corner or in a line along the edge of the BGA or micro CSP
After application, the BGA/micro CSP is heated to a temperature between 125°C and 165°C
Capillary action is used to absorb the underfill under the BGA or micro CSP
The temperature is held steady until the underfill is cured, which can take anywhere from five minutes to an hour or more, depending on the encapsulant material being used
BGA Underfill Protects PCB Assemblies
BGA underfill provides a strong mechanical bond between the BGA component and its connection to the circuit board, protecting the solder joints from physical stress. The underfill material can also aid in heat transfer (protects against CTE) between the BGA component and the board, and sometimes can even serve as the primary heat sink for the component.
Specialized Ball Grid Array Services Using Proprietary Underfill Materials
Plasma Ruggedized Solutions uses a specialized BGA underfill process that employs made-to-order materials in a frozen state to minimize the possibility of contaminants and unwanted variations in the material. These uniquely contained materials are ideal for the precise application requirements of the underfill process.
Identifying BGA Underfill Defects
Using Cross Section and Extreme Magnification Testing to Detect Defects in Your BGA Underfill
Factors including inappropriate equipment, operator error, improper PCB assembly preparing, heat damage, and poor profile development can all affect the quality of a BGA underfill.  Common defects or quality issues can include:
Excessive voids in solder balls
Open circuits
Solder ball eccentricity
Coplanarity between the BGA and PCB assembly
BGA Underfill Testing Services
Plasma Ruggedized Solutions offers two-dimensional X-Ray diffraction testing services, including a multi-layer analysis of your circuit boards and underfill to diagnose potential issues in the quality of your circuit board components and underfill. We also provide complete diagnostic testing for BGA circuits and other devices to detect flaws that are not visible on the surface and to determine the overall quality of your circuit board assembly. Services include:
BGA component X-Ray analysis
Existing underfill inspection
Identifying lifted pins and cracks
Identifying underfill application inconsistencies
If you are concerned about an issue with your current underfill application, request a quote for BGA underfill and X-ray diffraction testing services today.
BGA Underfill and Testing Circuit Board Assemblies Reworking Solutions
Potential complications can arise from your circuit board assemblies based on the type of underfill used, the thickness of the stencil used for placing the BGA balls, or any application errors made during the underfill process. Besides standard BGA underfill services, Plasma Ruggedized Solutions can rework PCB assemblies, including de-soldering or re-soldering printed circuits. Most underfill materials are re-workable, so it is possible for our customers to repair and replace component parts should they fail in the field. The ultimate end goal of our BGA underfill process is to reduce the operating stresses on the unit assemblies and reduce the overall processing time and manufacturing costs.
Additional PCB Underfill Reballing & Repair Solutions
We utilize state-of-the-art equipment and proprietary Kronos-10™ underfill material to provide top-quality BGA rework and BGA underfill services for printed circuits and other devices. Kronos-10™ provides superior moisture and thermal cycling performance compared to your existing underfill solution with an improved bonding characteristic. This RoHS certified underfill features a capillary flow property that completely encapsulates the components' undercarriage for increased heat dissipation. Our skilled technicians can perform the underfill reworking processes with our superior Kronos-10™ underfill in-house, or Kronos-10™ can be purchased for self-application. Request a quote on Kronos-10™ underfill material online.
BGA Underfill Application Uses
Plasma Ruggedized Solutions' BGA underfill processes apply to a several products, in addition to BGA components. We also offer underfill services for:
LGA (land grid array) devices, to account for packaging density and chip scale considerations
CSPs (chip scale packages) to prevent damage due to weight, shock, vibration, etc.
Underfill for chip-on-chip devices, quad flat packs, no leads
And many others
Our BGA underfill services reduce thermal stresses while improving reliability through the underfill process.  As a structural force, underfill also protects against cracking and reduces solder-joint stresses.
As more electronic devices utilize underfill packaging in their manufacture, Plasma Ruggedized Solutions continues to be your leading source for BGA underfill services.
Contact Plasma Ruggedized Solutions for BGA Underfill Services
Plasma Ruggedized Solutions is the industry leader in BGA underfill, and conformal coating services. PRS works across industries, providing solutions to a variety of applications.