Dow Corning 1-2620
Protective coating for solar cells and modules.
Dow Corning® 1-2620 Low-VOC Conformal Coating Applications
Abrasion-resistant protective coatings for solar cells and modules
Can be used for module repair of scratches, cuts or abrasions
Description
Dow Corning® 1-2620 Low-VOC Conformal Coating is a one-part, self-priming coating that cures to a flexible, clear, elastoplastic coating ideally suited for solar applications, particularly those requiring toughness and abrasion resistance.
How To Use
Dow Corning 1-2620 Low-VOC Conformal Coating can be applied by spray, brush, flow, dip, or automated pattern coating. For spraying operations, solvent dilution of up to 60% is recommended. For dip coating operations, material may be used as supplied or solvent diluted if a thinner film build is desired. Care should be taken to ensure the solvent is free from moisture, and dip tanks should be covered when not in use. Dow Corning® OS-20 Fluid is recommended for dilution.
Pot Life
The pot life of Dow Corning 1-2620 Low-VOC Conformal Coating is dependent on the application method chosen. To extend pot life, minimize exposure to moisture by using dry air or dry nitrogen blanketing whenever possible.
Curing
The time required to reach a tack-free state can be reduced with heat. When using heat for this purpose, allow adequate time for the solvent to evaporate prior to exposing to elevated temperatures in an air-circulating oven. A typical cure schedule for 3 mil (75 micron) coatings is 10 minutes at room temperature, followed by 10 minutes at 80°C. If the coating blisters or contains bubbles, allow additional time at room temperature for the solvent to flash off prior to oven cure.
Repairability
In the manufacture of electronic devices, it is often desirable to salvage or reclaim damaged or defective units. Dow Corning 1-2620 Low-VOC RTV Coating offers excellent repairability because it can be removed from substrates and circuitry by scraping or cutting, or by using solvents or stripping agents. If only one circuit component is to be replaced, a soldering iron may be applied directly through the coating to remove the component.
After the affected area has been repaired, the area should be cleaned by brushing or by using solvent, then dried and recoated with the original coating, as the coatings have very good adhesion to themselves.
Adhesion
Dow Corning 1-2620 Low-VOC Conformal Coating is formulated to provide adhesion to most common electronic substrates and materials. With RTV cure coatings, adhesion typically lags behind cure and may take 72 hours to build in some coatings. On certain difficult, lowsurface-energy surfaces, adhesion may be improved by priming or by special surface treatment such as chemical or plasma etching.
Handling Precautions
PRODUCT SAFETY INFORMATION REQUIRED FOR SAFE USE IS NOT INCLUDED IN THIS DOCUMENT. BEFORE HANDLING, READ PRODUCT AND MATERIAL SAFETY DATA SHEETS AND CONTAINER LABELS FOR SAFE USE, PHYSICAL, AND HEALTH HAZARD INFORMATION. THE MATERIAL SAFETY DATA SHEET IS AVAILABLE ON THE DOW CORNING WEBSITE AT WWW.DOWCORNING.COM, OR FROM YOUR DOW CORNING REPRESENTATIVE, OR DISTRIBUTOR, OR BY CALLING YOUR GLOBAL DOW CORNING CONNECTION.
Usable Life and Storage
When stored in the original, unopened containers at room temperature, Dow Corning 1-2620 Low-VOC Conformal Coating has a shelf life of 24 months from date of manufacture.
Storage conditions and shelf life ("Use by" date) are indicated on the product label.
Special precautions must be taken to prevent moisture from contacting Dow Corning 1-2620 Low-VOC Conformal Coating. Containers should be kept tightly closed and head or air space minimized. Partially filled containers should be purged with dry air or other gases, such as nitrogen.
Packaging
Dow Corning 1-2620 Low-VOC Conformal Coating is available in 500ml bottles, 1 gallon and 5 gallon pails including bladder packs.
Limitations
This product is neither tested nor represented as suitable for medical or pharmaceutical uses.
Health and Environmental Information
To support customers in their product safety needs, Dow Corning has an extensive Product Stewardship organization and a team of Product Safety and Regulatory Compliance (PS&RC) specialists available in each area. For further information, please see our website, www.dowcorning.com, or consult your local Dow Corning representative.
Limited Warranty Information – Please Read Carefully
The information contained herein is offered in good faith and is believed to be accurate. However, because conditions and methods of use of our products are beyond our control, this information should not be used in substitution for customer's tests to ensure that Dow Corning's products are safe, effective, and fully satisfactory for the intended end use. Suggestions of use shall not be taken as inducements to infringe any patent Dow Corning's sole warranty is that the product will meet the Dow Corning sales specifications in effect at the time of shipment.
Your exclusive remedy for breach of such warranty is limited to refund of purchase price or replacement of any product shown to be other than as warranted.
DOW CORNING SPECIFICALLY DISCLAIMS ANY OTHER EXPRESS OR IMPLIED WARRANTY OF FITNESS FOR A PARTICULAR PURPOSE OR MERCHANTABILITY.
DOW CORNING DISCLAIMS LIABILITY FOR ANY INCIDENTAL OR CONSEQUENTIAL DAMAGES.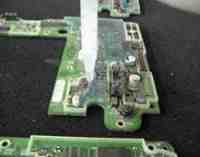 Plasma Ruggedized Solutions is a diversified global technology leader in the engineered application of advanced coatings and encapsulants