Dymax 984LVUF
Ultra Fluorescing Conformal Coating
Multi-Cure® 984-LVUF is a highly fluorescing single component, 100% solids conformal coating specifically formulated for rapid room temperature cure when exposed to longwave (320-380 nanometer) UV light. 984-LVUF retains a relatively high brilliance fluorescence after curing and will not fade. Thin layer coatings cure almost instantly to a depth of 7 mils and fluoresce upon exposure to "black" light. Multi-Cure 984-LVUF also exhibits adhesion to a variety of metal, ceramic and glass-filled epoxy surfaces. 984-LVUF is a moderately low viscosity coating which can be cured by exposure to UV light and secondarily cured with heat for shadowed areas on densely populated circuit boards.
Multi-Cure 984-LVUF are approved to Military Specification MIL-I-46058-C, Type AR, ER and UR (QPL#576-90). 984-LVUF meets"NSA" hydrolytic stability (reversion) requirements.
Multi-Cure 984-LVUF is qualified to IPC-CC-830-A.
Multi-Cure 984-LVUF is UL recognized (UL 746C), rated indoor/outdoor, to 120°C and 94V-0 flame class.
Multi-Cure 984-LVUF is designed with an optimum level of fluorescent indicator to allow cure and to fluoresce under a "black light".Though UV conformal coatings do not fluoresce as brightly as traditional solvent-based coatings, the following steps should permit adequate brightness for easy inspection:
Avoid overcuring the conformal coating. The UV cure schedule listed above is adequate. Lengthening exposure to UV light lower fluorescence.
Inspect coated boards under "black" light in a shrouded area. Indirect indoor lighting decreases the effect of the "black" light in revealing the fluorescence.
Heat Cure Following UV Exposure
Heat can be used as a secondary cure mechanism when all adhesive cannot be cured with UV light. UV cure must be done prior to heat cure. Application may involve dip, spray or curtain coat.
Factors Affecting Curing
Dark surfaces lengthen cure time. Thicker films require longer cure times.
Full range (UV-A, B & C) lamps provide faster cures than filtered sources.
All UV sources degrade with use. Check output periodically with a radiometer.
Light intensity decreases as distance from UV source increases.
Handling and Dispensing Adhesive
Typically, DYMAX 984-LVUF is sprayed. For questions relating to dispensing, curing systems, the products or the use of products, contactDYMAX Technical Service.
Repeated or continuous skin contact may cause sensitization and should be avoided. Do not wear jewelry. The use of barrier hand cream is recommended. Do not wear absorbent gloves. Uncured adhesive may be removed from skin with hand soap and water. Avoid eye contact. See CAUTION below. Wipe excess adhesive with paper towels; remove residue with chlorinated solvents, methanol, ethanol, or isopropanol.
Storage and Shelf Life
Product has a one-year shelf life when stored below 32°C (90°F), out of sunlight and in original, unopened container.
Caution
For industrial use only. Avoid breathing vapors. Avoid contact with eyes and clothing. In case of contact, immediately flush with water for at least 15 minutes; for eyes, get medical attention. Wash clothing before reuse. Keep out of reach of children. Do not take internally. If swallowed, vomiting should be induced at once and a physician called. For specific information, refer to the product's Material Safety DataSheet before use.
DYMAX product 984-LVUF does not support fungal or bacterial growth.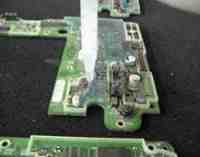 Plasma Ruggedized Solutions is a diversified global technology leader in the engineered application of advanced coatings and encapsulants