Sancryl 300
Single Component Acrylic Enamel
SANCRYL® 300 cures to form a tough, durable acrylic film with excellent resistance to UV radiation.
Typical Uses
SANCRYL 300 is designed for use as a coating for signs, scoreboards and other exterior and interior applications over aluminum, primed steel, and most plastics. Use where long life and abrasion resistance is important. For best results outdoors, prime the surface with AQUA-POXY® 914. Features and benefits include:
Excellent exterior durability
Good flexibility
Excellent abrasion resistance
Limitations
DO NOT apply at temperatures below 500F. Applying at temperatures below 600F and humidity levels above 70% will result in greatly prolonged drying and curing times and may affect appearance and/or performance. Curing for 10 minutes at 1400 to 1800F is recommended for faster handing and optimum cure
Protect from rain for at least 24 hours after curing
Aluminum needs to be primed with 0.3 to 0.5 mils of AQUA- POXY 914 primer for maximum durability
Steel must be primed with AQUA-POXY 914 for corrosion resistance (2 mils indoors, 4+ mils outdoors)
Notice
Before using this product, read all warnings and safety information printed on the label, the Material Safety Data Sheet, and the Technical Information Guide.
Surface Preparation
Surfaces must be clean, dry, and free of all dirt, grease, wax, loose or peeling paint, oil, and other contaminants. For maximum adhesion use a cleaner/etcher designed for aluminum or fiberglass, or clean the substrate with SANPRO® EASY CLEAN and prime with AQUA-POXY 914 Primer.
Thinning
Apply as is for HVLP application, or thin 20 parts SANCRYL 300 to 1 part water for conventional air spray, viscosity of 60-70" #2 Zahn Cup (ASTM D4212)
Application
SANCRYL300 is formulated for conventional spray, or HVLP spray application. Roller application is possible under ideal conditions.
Cleanup
Clean equipment with water.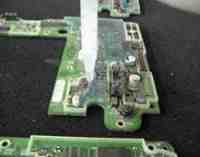 Plasma Ruggedized Solutions is a diversified global technology leader in the engineered application of advanced coatings and encapsulants