Parylene C, PRS XY-C™ Dimer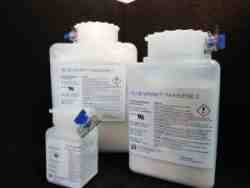 Plasma Ruggedized Solutions has successfully tested and is now selling a high performance Parylene C dimer for use in a variety of industries. Like its sister product Blue Spark™ Parylene C, PRS XY-C™ dimer product presents the same high performance, high purity characteristics as Blue Spark™without the (added UV tracer material). Parylene C, PRS XY-C™ is UL94VO rated and meets the performance standards of Mil-I-46058C and NASA Low Outgassing (ASTM-ES95), IPC-CC-830B, and UL746.
PRS XY-C™ properties provide exceptional Tin-whisker mitigation in a thin film solution. It is also an excellent conformal coating for resistance against: water, salt spray, inorganic acids, bases, organic solvents and corrosive gases. PRS XY-C™ is intended as a protectant against harsh environments. Because of its superior properties it can be paired with a high-performance polyurethane or silicone "in a layered coating methodology" unique to PRS.
Layered Methodologies of Conformal Coating
Furthermore, PRS engineering combines the technologies of: Plasma treatment, PRS XY-C™ and a choice of urethane or silicone (depending on the environmental threat) to form an exceptional thin film barrier against a host of environmental threats. This "layered methodology" is the answer for products that need ultimate protection but can't accept the weight of encapsulation epoxy or similar materials. More on our layered methodology at our website and of course through technical discussions with our engineering team.
The technical virtues of PRS XY-C™ are fully articulated in the Technical Data Sheet, PRS XY-C™ material application is particularly useful for electronic and certain mechanical systems found in the following industries:
Aerospace
Medical
Automotive
LED
Sensors (military and commercial)
Industrial
Oil & Gas
Plasma Ruggedized's XY-C Paralyne Dimer Is Ready for Your Project
PRS XY-C™ is available for bulk purchase and can be shipped anywhere in the world. PRS also offers full technical consulting support and engineering guidance for the use and proper application of PRS XY-C™. Contact usfor more information regarding PRS XY-C™ or request a quote today.