Parylene XY-C™ Dimer
Printed circuit boards are sensitive, high-quality electronic products. Like the sister product, BLUE SPARK™, Parylene XY-C™ provides purity and performance coating characteristics. Protect your PCB from harsh conditions and provide top performance with Parylene XY-C™ Dimer. PRS has successfully tested and offers XY-C™ parylene for a variety of industrial applications. Ready to use XY-C™ on your next project? Contact Plasma Ruggedized Solutions for more information or engineering guidance.
Advantages of XY-C™ Parylene Dimer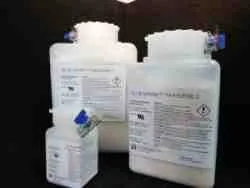 Using a layering methodology, XY-C™ parylene combined with plasma treatment and a high-performing urethane or silicone forms an incredibly thin film barrier to protect products from environmental factors. Parylene XY-C™ resists damage from water, salt spray, inorganic acids, bases, organic solvents, and corrosive gases. Benefits offered by parylene XY-C™ dimer coating include the following:
Provide tin-whisker mitigation
Resistance to corrosion
Can be combined with coating and underfill
Meets the performance standards of MIL-I-46058C
UL-94V0 and UL-746 rated
Compliant with NASA Low Outgassing (ASTM-ES95)
Meets requirements for IPC-CC-830B
Coating Services from Plasma Ruggedized
Parylene XY-C™ can be used with coating and BGA underfill services. The additional layer provides enhanced protection for sensitive circuit board applications. Using our in-house solution, Kronos-10, ball grid array underfill can ensure proper performance through the added protective coating. PRS also offers conformal coating services for aerospace and other industrial applications using Kryptos-17, our internally created epoxy resin potting material that increases operational protection in challenging environments.
Industries for Parylene XY-C™
Providing various benefits, XY-C™ parylene dimer can be used in many applications across industries to provide additional protection against challenging environments and ensure optimal performance. Industrial electronic and mechanical systems that benefit from using parylene XY-C™ include:
Aerospace
Medical
Automotive
LED
Sensors (military & commercial)
Industrial
Oil & Gas
PRS XY-C™ Dimer Technical Data Sheets
Contact Us for a Parylene Dimer Solution for Your Next Project
Plasma Ruggedized provides PRS XY-C™ Parylene C Dimer for bulk purchasing that can be shipped anywhere in the world. Offering full technical consulting support and engineering guidance, contact PRS for assistance today. We are happy to provide additional information regarding PRS XY-C™ or request a quote.