Zymet CN-1431 Underfill
Reworkable CSP and BGA Underfill Encapsulant
CN-1431 is a fast flow reworkable underfill encapsulant for CSP and BGA encapsulation and is capable of flowing quickly across distances of 750 mils and greater. It cures rapidly, yet it has a long pot life. Dispensing can be performed with either manual or automatic dispensers.
Directions For Use
Thaw syringe completely before use. Preheat substrate to 50-90°C. Higher temperature yields faster underfill flow rate. Dispense encapsulant along one edge or two adjacent edges of the component. Multiple dispensing strokes may be required to completely underfill large components. Recommended cure is 5 minutes at 165°C, where temperature refers to the actual temperature of the encapsulant.
Directions For Removal
Heat the underfilled component to 220°C with a hot air gun or other suitable tool. Twist or lift component to remove. Continue to heat the residue and remove with light abrasion and vacuum.
Storage and Handling
Store at –5°C or below. Pot life is 24 hours at room temperature. Use good industrial hygiene to avoid skin and eye contact. Wash off affected area with soap and water.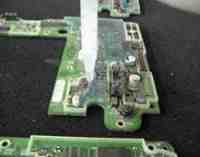 Plasma Ruggedized Solutions is a diversified global technology leader in the engineered application of advanced coatings and encapsulants