Conformal Coating Services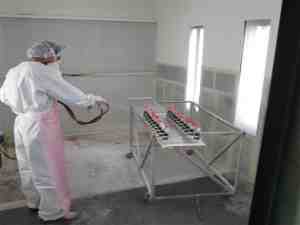 Application of Wet Conformal Coating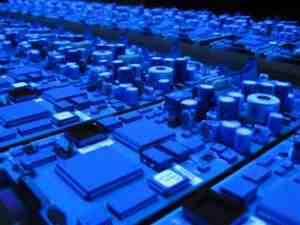 Conformal Coated Boards Under UV Light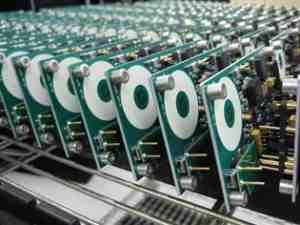 Circuit Board - Conformal Coating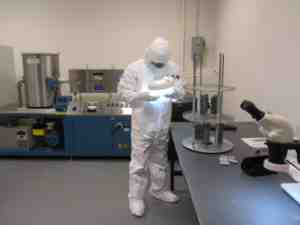 Parylene - XY Vapor Deposition Conformal Coating Clean Room Class 10,000.
Plasma Ruggedized offers a unique arrangement of NADCAP, AS9100 and NASA-certified conformal coating services to meet your specific industry needs. Our protective PCB conformal coating solutions using parylene deposition, which is a process that involves applying parylene coatings at ambient temperatures with specialized vacuum equipment. Parylene conformal coatings provide a circuit board coating that provides a uniform thickness and is pinhole free, which allows for complete protection from moisture and impact.
Contact Plasma Ruggedized Solutions for more information!
Learn more about our comprehensive conformal coating services below, contact us online for more information regarding our conformal coating services, or call us at 800-994-7527 and we will gladly answer any questions that you may have.
Conformal Coating Application Methods
One of the most critical considerations for PCB coating is choosing the optimal coating method for your specific product or application. Product volume, application speed, uniformity, and cost effectiveness are just a few factors to consider when choosing between conformal coating methods. Coating methods can also be applied manually by a skilled technician—such as in brush or spray coating—or through an automated process depending on your specific requirements.
Conformal Coating Solutions
Brush conformal coating methods involve using a brush to apply conformal coating manually and selectively to circuits and is ideal for a wide variety of applications, including coating repairs.
Dip conformal coating involves dipping a PCB or other components and fully submerging it into the desired coating and is ideal for high-speed, high-volume complete PCB protection.
Spray conformal coating involves using automated equipment or a manual technician to apply selected PCB coating. This method provides pinhole-free coating and a higher quality finish than brush or dip methods and is ideal for larger components.
Vapor Deposition involves using a chemical vacuum polymerization process to effectively seal your PCBs with a uniform Parylene coating. Vapor deposition is a specialized application process that coats almost every possible surface on LED's and offers extremely low permeability, added moisture, and solvent protection.
Conformal Coating Inspection and Application Services
At Plasma Ruggedized Solutions, we offer testing and laboratory services to inspect each assembly before coating is applied. If needed, we will clean the assemblies that do not meet our specifications for surface cleanliness using custom plasma processes so each circuit board coating will be uniform. Using our engineering expertise, we select the proper material for the job and develop a custom procedure to apply the PCB conformal coating. After the conformal coating has been applied and has cured, we rigorously inspect each coated assembly to ensure quality.
We are constantly working to develop new and innovative conformal coating methods and materials such as Blue Spark™, Kronos-10, and Kryptos-17 to better serve our customers. Our processing and technological advancements help improve the overall quality of all products in our industry, allowing us to give you the finest state-of-the-art circuit board coating services possible. With over 20 years of industry experience, Plasma Ruggedized Solutions is your PCB conformal coating service provider.
Learn more about our testing and laboratory services that include environmental screening, two-dimensional x-ray diffraction, and other advance service options.
Advanced Conformal Coating Services
Our processing and technological advancements help improve the overall quality of all products in our industry, allowing us to give you the finest state-of-the-art circuit board coating services possible We offer testing, advanced cleaning and Plasma applications with both invasive and noninvasive laboratory services to inspect each assembly before applying coatings. Additional advantages to choosing Plasma Ruggedized Solutions coating include:
Advanced Thin film applications (angstrom level) than other coating processes
Excellent mechanical and thermal-resistant coating materials
Water, chemical and corrosion-resistant properties
Reduces vibration effect for circuit boards
Meets FDA requirements and military specifications
Conformal Coating Removal And Stripping Services
Whether you need to access your PCB or repair a poor conformal coating application, the process of removing conformal coatings without disrupting the design/wiring of your PCB is extremely challenging. Chemical stripping offers a series of challenges due to coating resistance, moisture resistance and application inconsistencies from manual PCB removal.
At Plasma Ruggedized Solutions, we work with your project's exact specifications when removing and stripping PCB conformal coatings. Contact us to learn more about our processes for removing and stripping conformal coatings for printed circuit boards.
Conformal Coating Formulated Materials
Plasma Ruggedized offers a unique arrangement of RoHS and REACH Compliant, UL Compliant and ISO 10993-Compliant coating solutions based on your specific industry needs. Our conformal coatings Blue Spark™ Parylene Dimer offers a lightweight PCB conformal coating solution that is preferable for applications where there are thickness or weight restrictions. It is a high-performance film that is visible in UV light for convenient inspection while yielding excellent chemical, electrical and physical properties. Our Parylene C Dimer, PRS XY-C™ Dimer presents the same high performance, high purity characteristics as Blue Spark™ without the added UV tracer material.
Additionally, our Kryptos-17™ Epoxy Resin Potting Material is available for operational protection and provides a better-finished product with greater reliability than other electronic potting materials. Our line of Underfill materials, including the state-of-the-art Kronos-10™  protects your PCB from the thermal dissipation of BGA, LGA and other like componentry that create and emit significant heat signatures.
Conformal Coating Applications
Plasma Ruggedized Solutions is your trusted source for the advanced shielding of electronics. Conformal coatings are ideal for industries that rely on safe data storage and reliable PCB board usage. Precision analog circuitry may degrade and due to exposure, contaminants, mechanical stress and vibrations. Aircraft, automotive and medical electronics circuit boards that contain sensitive information can also be protected by the proper application of conformal coatings.
Specific Conformal Coating Applications
The right solvent-based, physical (subsonic velocities with reduced media) and plasma-based methodologies to remove several types of circuit board coatings varies by chemical composition and device, including:
Acrylic
Urethane
Silicone
Parylene
Nano Chemistries
Epoxies
Conformal Coatings For Multiple industries
While Plasma Ruggedized Solutions provides coatings for a variety of applications, frequent industries served include:
Why Work With Plasma?
While our state-of-the-art material application concepts are constantly evolving, we have always operated on four major structural pillars:
1. High-quality NADCAP, AS9100 and NASA-certified engineering services.
2. A constant drive for developing process and safety control.
3. A quality first/customer-centric mentality centered on open and honest communication.
4. Continuous improvement performance (CIP) culture for the empowerment of both our customers and employees.
Contact Plasma Ruggedized Solutions
Plasma Ruggedized Solutions is the industry leader in conformal coating services. PRS works across industries, providing solutions to a variety of applications. Please contact us to discuss your conformal coating needs.