Conformal Coating Services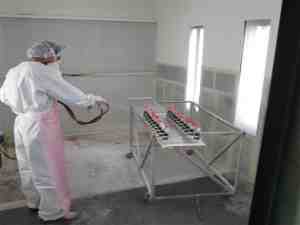 Application of Wet Conformal Coating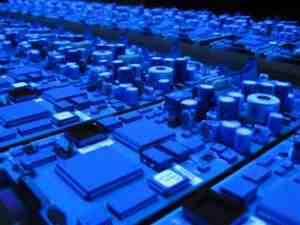 Conformal Coated Boards Under UV Light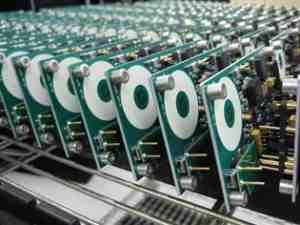 Circuit Board - Conformal Coating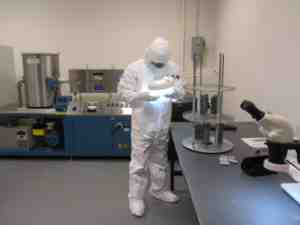 Parylene - XY Vapor Deposition Conformal Coating Clean Room Class 10,000.
Plasma Ruggedized Solutions offers protective PCB conformal coating solutions using parylene deposition, which is a process that involves applying parylene coatings at ambient temperatures with specialized vacuum equipment. Parylene conformal coatings provide a circuit board coating that provides a uniform thickness and is pinhole free, which allows for complete protection from moisture and impact.
Contact Plasma Ruggedized Solutions for more information!
Contact us for more information regarding our conformal coating services, or call us at 800-994-7527 and we will gladly answer any questions that you may have. Plasma Ruggedized Solutions is your trusted source for technologically advanced conformal coating services.
Shielding Electronics with Conformal Coatings
One of the most critical considerations for PCB conformal coating is ensuring the coating is compatible with your design goals. The conformal coating must meet your assemblies' requirements and be the most efficient solution for your project. Plasma Ruggedized Solutions offers adaptable, case-by-case variations to guarantee your conformal coating is the ideal match for your specific needs, from first articles to large production quantities.
Our engineering, production, quality control and customer service teams will work with you to create the best solution for your project. We deliver the most in-depth engineering services available for our customers, including guidance for product/conformal coating compatibility in the design and development stages. Plasma Ruggedized Solutions is your trusted source for advanced shielding electronics with conformal coatings services. If you have specific questions regarding our processes, please contact us today.
Our Parylene (Polyparaxylylene) coating services and case-specific adaptability are second to none, but simply coating your sensitive assemblies is not enough. It is critical that a conformal coating be:
Compatible will all components on the PCA or PCB being coated
Applied to a clean and properly prepared surface
Appropriate for the environment to which it will be exposed
Reliable and durable to extend product life
Cost-effective, re-workable protection
Conformal Coating Inspection and Application Services
At Plasma Ruggedized Solutions, we offer testing and laboratory services to inspect each assembly before coating is applied. If needed, we will clean the assemblies that do not meet our specifications for surface cleanliness using custom plasma processes so each circuit board coating will be uniform. Using our engineering expertise, we select the proper material for the job and develop a custom procedure to apply the PCB conformal coating. After the conformal coating has been applied and has cured, we rigorously inspect each coated assembly to ensure quality.
We are constantly working to develop new and innovative conformal coating methods and materials such as Blue Spark™, Kronos-10, and Kryptos-17 to better serve our customers. Our processing and technological advancements help improve the overall quality of all products in our industry, allowing us to give you the finest state-of-the-art circuit board coating services possible. With over 20 years of industry experience, Plasma Ruggedized Solutions is your PCB conformal coating service provider.
Learn more about our testing and laboratory services that include environmental screening, two-dimensional x-ray diffraction, and other advance service options.
What are Conformal Coatings?
Conformal coatings are designed to form protective chemical or polymer film barriers over finished electronics assemblies to protect them against extreme environments. Conformal coatings protect against corrosion and provide added protection against the formation of tin whiskers. These types of severe conditions include:
Electrical leakage
Exposure to moisture
Salt, Fog and other corrosive threats
Temperature fluctuation, Shock and Vibration
Fungus
Dust
Conformal Coating vs. Potting and Encapsulation
PCB conformal coating and electronic potting and encapsulation are two processes used for protecting printed circuit boards, but there are a few differences to consider before determining which printed circuit coating is best for your specific application.
PCB Conformal Coating: used to protect PCB assemblies from moisture, dust, corrosion, and contamination. The process creates a thin, protective layer that is non-conductive and applied directly to the printed circuit board.
Potting and Encapsulation: also provides a protective coating. However, the method involves placing the printed circuit board in a case or shell, then pouring a liquid compound into the case to fully encase the PCB. Both the case/shell and the cured compound become part of the finished assembly.
Choosing Between Conformal Coating and Potting and Encapsulation
Potting/encasing is a conventional method used for high-speed and high-volume production lines for applications involving circuit boards that may be subject to rough impact or mechanical abrasion. Because of its thick coating, potting can make inspection more difficult and is not suitable for applications where PCB thickness is a concern. Plasma Ruggedized provides innovative solutions for your conformal coating, potting and encapsulation needs.
Plasma Ruggedized's conformal coatings Blue Spark™ Parylene Dimer offers a lightweight PCB conformal coating solution that is preferable for applications where there are thickness or weight restrictions. It is a high-performance film that is visible in UV light for convenient inspection while yielding excellent chemical, electrical and physical properties. This type of circuit board coating also makes it easier to inspect and rework PCBs if needed.
Learn more about electronic potting and encapsulation or contact us for assistance determining which circuit board coating process would work best for your application. Our experts can provide electronic potting and encapsulation services effectively through a broad range of service techniques that are based on your project's exact specifications.
Additional Services
Removing and Stripping PCB Conformal Coatings
When PCB assemblies need to be reworked due to functional failure or the circuit board coating itself is of poor quality and needs to be redone, the original PBC conformal coating will need to be stripped.
Plasma Ruggedized Solutions uses several different processes for removing or stripping PCB conformal coating. There is always some risk associated with stripping circuit board coatings, but we take every measure to choose the mildest chemistries and processes possible to achieve the desired result.
At Plasma Ruggedized Solutions, we work with your project's exact specifications when removing and stripping PCB conformal coatings. Contact us to learn more about our processes for removing and stripping conformal coatings for printed circuit boards.
Learn More About Conformal Coating Services by Reading Our Whitepapers
Interested in learning more about how conformal coating services can apply to your industry? Plasma Ruggedized Solutions is an industry leader, with several whitepapers that you can read to learn more about the conformal coating, its applications, and how they relate to your project specifications.
Contact Plasma Ruggedized Solutions for Conformal Coating Services
Plasma Ruggedized Solutions provides a wide range of circuit board coating services including PCB conformal coating and electronic potting and encapsulation to enhance the performance of your printed circuit boards. We also offer testing and laboratory services to identify issues and defects, and removal and striping of printed circuit coating to prepare PCBs for reworking.
Contact us today for more information about our conformal coating services, or check our Case Studies page to learn more.