Loctite PC18M
Liquid Printed Circuit Coating
HYSOL® PC18M is a solvent based, one component urethane coating which may be cured at room temperature. It is especially recommended for printed board coating.
PC18M is a stable, clear material suitable for continuous operation up to 110ºC. It may be applied by brush, dip or spray to electrical parts, for improved moisture and environmental protection. Components and joints may be repaired, by heating the coating with a soldering iron, for easy removal. When fully cured, PC118M exhibits superior toughness, and abrasion and solvent resistance. Even after long exposure to the elements, the coating retains its very light color.
PC18M is qualified to meet requirements of MIL-I-46058C, Type PUR, and is listed on the QPL 46058.
Handling
Drying and curing of the coating depends upon evaporation of the solvent and subsequent reaction of the polymer with moisture in the air at elevated or room temperature. Optimum physical and electrical
properties can be obtained with room temperature cure but moisture must be present in the air, at a minimum relative humidity level of 30%.
Air dry coated boards at least 30 minutes at 25ºC (77ºF) to remove solvents before curing in oven or before applying additional coats.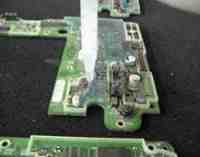 Plasma Ruggedized Solutions is a diversified global technology leader in the engineered application of advanced coatings and encapsulants