Corrosion Resistant Coating Services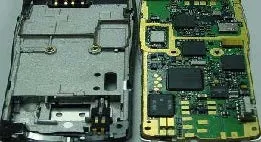 Conformal coatings and potting/encapsulation materials all offer some level of corrosion resistance. However, there are certain materials and coating methods that deliver greater protection against corrosive chemicals, atmospheric conditions, and other hazardous elements. These materials are often required in: marine, medical, and industrial applications where there are high levels of exposure to chemicals, gases, and other corrosive substances.
Corrosion resistant coatings protect against chlorine, hydrogen sulfide and other substances that degrade surfaces and cause component failure. Types of corrosion resistant coatings include urethane, epoxy, and Parylene materials that reduce the rate at which harmful compounds penetrate and filter them out before they reach the working of the coated or encapsulated assemblies.
Many of these coatings also provide the added benefit of protecting components and assemblies from:
Ammonia
Strong oxidizers such as chlorine and fluorine
Medical sterilizing compounds
Household cleaners
Industrial acids and alkalis
Fuels
Exhaust/combustion products
We use specialized urethanes, epoxies, Parylene and Silicone conformal coatings and other encapsulants that provide effective protection against harsh environments. Each H2S resistant coating material offers unique benefits, but all are extremely successful at limiting the level of damaging gaseous compounds which reach the surface of the metals or other substrates in components. These materials also help mitigate oxidization, tin whisker growth, and other harmful reactions.
Request a quote or contact us to learn more about our corrosion resistant coating services.
Corrosion Resistant Coatings Protect Components from The  Environment
Anywhere components are subject to saltwater spray or exposure, frequent cleaning with potent solvents as in a medical setting, or other extreme environmental factors, corrosion resistant coatings, and encapsulations offer superb protection.
Corrosion resistant coatings typically require minimal surface preparation and do not require a primer coat. Some of the benefits of using corrosion resistant coatings include:
Protection from heat, moisture, and chemicals
Prevents corrosion and oxidation
Prepares surfaces for painting and coatings
Reduces surface friction and prevents adhesion
Plasma Ruggedized Solutions utilizes coating and encapsulation materials that are designed to withstand a variety of hazardous and corrosive environmental elements. Our H2S resistant coatings are designed to withstand long-term exposure to corrosive gases and liquids, and can be easily reapplied should they eventually break down over time. 
In addition to urethane, epoxy, and Parylene coatings, we frequently use silicone for corrosion resistant conformal coatings. Silicones are effective against hydrogen sulfide, moisture, salt spray, and a host of other harsh elements.
Taking environmental factors and application needs into consideration, we work with our customers across numerous industries to design the best solution for their needs. With multiple specialized materials available, and effective conformal coating and encapsulation methods, we can create a unique, custom solution to meet or exceed any customer's requirements.
Contact Plasma Ruggedized Solutions for Corrosion Resistant Coating Services
Contact Plasma Ruggedized Solutions to learn more about our corrosion resistant coating services. We also offer coatings formulated to protect your assemblies and components from including salt water and humidity,  extreme temperatures and other environmental hazards.