Kronos-10™ Underfill Material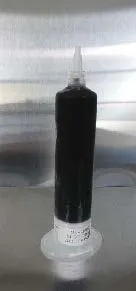 Left untreated, heat signatures from BGAs LGAs and other electronic devices may induce and transfer a heat load. This process can create a significant CTE event to the PCB or neighboring electronics. Plasma Ruggedized Solutions has recently developed Kronos-10™, a state-of-the-art underfill material designed to protect the internal operational features of your PCB. Kronos-10™ provides superior moisture and thermal cycling performance coupled with an extraordinary bonding characteristic that makes it invaluable for various shock and vibration applications. Designed by our own RoHS, AS9100, ISO 9001:2008, NASA, and ITAR-registered engineers, Kronos-10™ creates an adhesive bond well beyond the standards of conventional underfills and other heat dissipative materials
Learn more about the benefits and applications of our high performance, custom-formulated Kronos-10™ underfill material or Contact Plasma Ruggedized Solutions for more information about Kronos-10™ or Request for Quote online.
Benefits of Kronos-10™ Underfill Material
Given the fact that more and more military electronics are COTS products that feature lead-free solder and other materials not designed for various military theatres and environmental threats, it is crucial to apply a product like Kronos-10™ to assure intended performance and system viability. When applied Kronos-10™ features a capillary flow property that completely encapsulates the components' undercarriage, resulting in a combination of a superior heat dissipation mechanism while ensuring the stability of the attachment of the component to the PCB. Kronos-10™ creates a more secure adhesive bond that can't be matched by standard underfills and other heat dissipative materials.
Kronos-10™ Underfill Material Applications
Kronos-10™ protects components from thermal dissipation of BGA, LGA and other like componentry that create and emit significant heat signatures. Kronos-10™ provides strong bonding to:
Silicon
Flip Chip
BGA
Ceramics
FR4
Aluminum
Copper
Stainless Steel
Bare Die
Chip-Onboard
CSP & Other Electronic Applications
Kronos-10™ Industries Served
Kronos-10™ was designed as a "System" to concurrently address heat dissipation and shock and vibration needs of the A&D, Medical, Oil and Gas and Industrial market segments. Specific industries served include:
Network/Communications Hardwar
Consumer Electronics
Military
Why Choose Plasma Ruggedized Solutions For Underfill And Coating Products
With over 20 years of industry expertise, we provide advanced coating & engineering service solutions and specialized chemicals. We specialize in the application of acrylics/silicone/urethane conformal coating services designed to meet your specific industry goals. Better protect your electronics against corrosion, contaminants, leakage, salt, and other severe conditions with cutting-edge Blue Spark™ and Kryptos-17 coating solutions. Our specialized capabilities and expertise allow us to create custom ruggedized solutions for any application. Our AS9100-certified, NASA-certified and ITAR-registered production & engineering processes ensure your components are of the highest quality.
Additional Resources
Please click the following links for more information on Kronos-10™:
Contact Plasma Ruggedized Solutions About Kronos-10™ Underfill Material
Kronos-10™ has successfully completed development and is available for sale. Contact Plasma Ruggedized Solutions or request a quote today to learn more about Kronos-10™, our state-of-the-art underfill material.