Zymet CN-1703 Underfill
Reworkable CSP and BGA Underfill Encapsulant
CN-1703 is a reworkable underfill encapsulant for CSP and BGA encapsulation that cures quickly at low temperature. It is capable of flowing quickly across distances of 750 mils and greater. This encapsulant exhibits excellent adhesion to organic substrates.
Directions For Use
Flow under the component is quick at room temperature. Flow rate can be increased by preheating substrate to as high as 90 C. Dispense encapsulant along one edge or two adjacent edges of the component. Multiple dispensing strokes may be required to dispense sufficient material to underfill the entire component. Recommended cure temperature is actual temperature of the encapsulant. For other cure temperatures, consult your Zymet sales representative.
Directions For Rework
In general, the process is straightforward. Remove component using a BGA rework station. Remove solder with a solderwick. Heat the underfill and remove using an orange stick. For more detailed instructions, contact your Zymet sales representative.
Storage And Handling
Store at -5 0 C. Pot life is 14 days at room temperature. Use good industrial hygiene to avoid skin and eye contact. Wash off affected area with soap and water.
Refer to MSDS before use or disposal.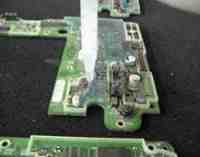 Plasma Ruggedized Solutions is a diversified global technology leader in the engineered application of advanced coatings and encapsulants