Parylene Coating Services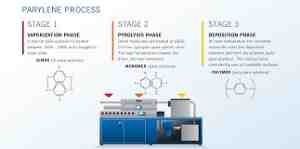 Parylene Coating Process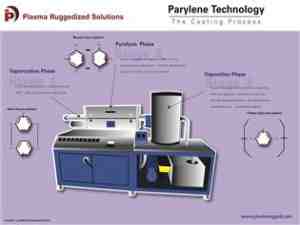 Parylene Technology - The Coating Process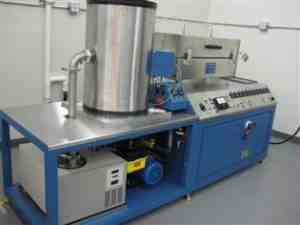 Parylene Coating System
Parylene conformal coating is used by various industries to coat and protect components, devices and surfaces.  The coating is unique because it is created at room temperature and does not require a liquid phase for application. Parylene applications can penetrate spaces as narrow as 0.01mm and provide an excellent barrier that has good thermal endurance while chemically and biologically stable.
The coating created by Parylene is thin and transparent, which makes it an ideal option for optical applications. It is also chemically inert, biocompatible and FDA-approved for use in medical implants. Parylene conformal coating also complies with N.A.S.A's low outgassing requirements of less than 1.0% Total Mass Loss and 0.1 CVCM (Collected Volatile Condensable Materials) or less outgassing in a vacuum environment. Common applications for Parylene coatings include surgical devices, human implantable devices, printed circuit boards, various electronic equipment, and more.
Proven Effectiveness in a Variety of Industries
Interested in learning more about how Parylene can apply to your industry? Plasma Ruggedized Solutions is an industry leader, with several whitepapers and case studies that you can read to learn more about Parylene, its applications, and more. Please peruse our whitepapers today. From implantable medical device coatings, to equipment designed to handle the some of the deepest parts of the ocean.
Contact Plasma Ruggedized Solutions for more information!
Contact Plasma Ruggedized Solutions today to learn more about our Parylene conformal coating services and how they can benefit your company's products. We also offer Parylene Remediation and stripping services and various in-house testing and laboratory services.
Parylene Offers High Chemical Resistance and Insulative Properties
Parylene conformal coating is applied using a vacuum deposition process, also known as polyparaxylylene coating, that involves heating the solid Parylene dimer to a vaporous state, then re-condensing it on the target assemblies to be coated. The vapor deposition process allows Parylene coatings to be uniform in thickness and completely pinhole free with a dielectric strength exceeding 6000 volts per mil.
Highly versatile, Parylene coatings are ideal for applications in medical,  military,  electronics,  aerospace, and  automotive industries. Parylene penetrates easily and can adhere to a range of substrates including glass, metal, plastic, elastomer, and more. Parylene offers many advantages over wet-process or dip-process conformal coating.
Key Features of Parylene Conformal Coatings
Delivers thinner film than other coating processes, allowing assemblies to be coated thoroughly without an increase in their size or loss of material thickness around the edges of components
Provides excellent mechanical properties and remains stable at temperatures from-200ºC to 150ºC
Provides a water resistant coating barrier for electronics and marine applications
Resists the corrosive effects of acidic and alkaline materials
Reduces the effects of vibration for circuit boards and other electronics
Offers extremely high chemical and fungal resistance, superior electrical properties and an excellent barrier to gases, making it adaptable for nearly any project
Creates a low-stress coating that does not involve a liquid stage or require curing
Ensures complete conformity, coating the entire assembly and leaving no areas open to exposure
Can be coated with urethane to create an abrasion-resistant layer without affecting performance
Meets FDA requirements and military specifications
Plasma Ruggedized Solutions offers a variety of Parylene coating services. View our FAQ section or read our whitepapers to learn more about Parylene conformal coating and other custom coating solutions. If you still have questions, please contact us to discuss our Parylene coating services.
Physical and Mechanical Properties of Parylene Conformal Coatings
There are three types of Parylene conformal coating that are frequently used: Parylene C, Parylene D and Parylene N. Parylene C is more widely utilized across different industries because it is cost-effective and highly versatile. Parylene N is next, with Parylene D being used less frequently than the others.
TYPICAL PHYSICAL AND MECHANICAL PROPERTIES
 
Parylene (N)
Parylene (C)
Parylene (D)
Tensile Strength, psi
6,500
10,000
11,000
Tensile Strength, MPa
45
69
76
Yield Strength, psi
6,300
8,000
9,000
Yield Strength, MPa
2,400
3,200
2,800
Elongation at Break, %
40
200
10
Density, g/cm3
1.110
1.289
1.418
Coefficient of Friction:
 
 
 
Static
0.25
0.29
0.33
Dynamic
0.25
0.29
0.31
Water Absorption, % (24 hr)
0.01 (0.019")
0.06 (0.029")
<0.1
Index of Refraction, nD23
1.661
1.639
1.669
Parylene Conformal Coating for Medical Devices and Implants
For medical applications, Parylene is the preferred conformal coating material as it is biocompatible, with a long-tested history and little risk of complications. Parylene is one of few materials approved for FDA Class 6 specifications. Plasma Ruggedized Solutions offers three different types of Parylene materials: Parylene C, Parylene D and Parylene N. Dimer N is the most commonly used of the three in medical applications.
Parylene N
Parylene N is comprised of carbons and hydrogens and has a higher dielectric strength than Parylene C.  It also provides greater crevice penetration due to its higher molecular activity during deposition. For applications where visual inspection is critical such as connectors or second assembly soldering locations, a UV tracer can be added to the dimer which will allow the coating to be inspected under a standard UV light source. The addition of the UV tracer to the coating during application does not reduce the effectiveness of the Parylene Coating and does not require any additional processing during the application procedure.
Parylene C
Parylene C is the sister product of Blue Spark™ Parylene Dimer and has the same high performance and high purity characteristics but without the added UV tracer material. This thin-film solution creates a Parylene conformal coating that provides excellent resistance against corrosive gases, inorganic acids, water, salt spray, bases and organic solvents. It is designed for use in harsh environments and can be paired with silicone or polyurethane to create an abrasion-resistant coating. Parylene C is cost-effective and frequently used for various aerospace and medical applications.
Parylene D
Parylene D is comprised of carbon and hydrogen with the addition of two chlorine groups to its benzene ring which are also para-substituted. It carries properties that are similar to Parylene C but is also able to withstand high temperatures. The dielectric strength of Parylene D is lower than Parylene C or N but it provides the same level of surface resistivity.
Improve Chemical and Moisture Resistance with Parylene Conformal Coating
The physical characteristics of Parylene conformal coating makes it highly resistant to various hostile environments. Because of its precision application and enduring features, it is the preferred conformal coating material for military and medical customers
Plasma Ruggedized Solutions utilizes proprietary masking processes that ensure greater safety for the product being coated, and result in superior and consistent product quality. Our proprietarily-controlled Parylene coating services feature multistage operator and inspection points to assure high first time yields.
Following cleaning plasma treatment and masking, the assemblies to be coated are positioned in the deposition chamber. The product remains at room temperature during the coating process.
The Parylene dimer is then heated until it changes from its solid powder form to a vapor. Coating thickness, which is typically in the microns range but can also be several mils thick, is controlled by the amount of dimer loaded into the system.
High temperatures are then used to cleave the dimer into two monomers. These monomer molecules enter the deposition chamber and form the polyparaxylylene polymer.
This process ensures that the coating forms consistently over all available surfaces. The result is a thin, clear and uniform coating with high chemical resistance and superior dielectric properties, ideal for numerous applications.
Request a Quote for Parylene Coating Services
Contact Plasma Ruggedized Solutions today to learn more about our Parylene conformal coating services and how they can benefit your company's products. We also offer Parylene tumble coating services and various in-house testing and laboratory services.