Humiseal 2A53
Modified Epoxy Coating
System Description A two component, heat cured, modified epoxy system. This coating is MIL-I-46058C and IPC-CC-830 qualified. Particularly suited for coating printed circuit assemblies and components where exceptional resistance to solvents and/or chemicals is required. Contains fluorescent tracer for viewing under ultraviolet light. HumiSeal 2A53 is in full compliance with the RoHS Directive (Directive 2002/95/EC).
Application
Cleanliness of the substrate is of extreme importance for the successful application of a conformal coating. Surfaces must be free of moisture, dirt, wax, grease and all other contaminants. Contamination under the coating will cause problems that may lead to assembly failures.
HumiSeal coatings Applied by Brush, Dip or Spray
Dipping
Depending on the complexity, density and configuration of components on the assembly, it may be necessary to reduce the viscosity of HumiSeal 2A53 with HumiSeal Thinner 535 in order to obtain a uniform film. Once optimum viscosity is determined, a controlled rate of immersion and withdrawal (2 to 6" per minute) will further insure even deposition of the coating and ultimately a uniform film. During the application, evaporation of solvent causes an increase in viscosity that should be adjusted by adding small amounts of Thinner 535. Viscosity in the dip tank should be regularly checked by the use of a simple measuring device such as a Zahn or Ford viscosity cup.
Spraying
HumiSeal Type 2A53 can be sprayed using conventional spraying equipment. As a rule, the addition of Thinner 535 is necessary to assure a uniform spray pattern resulting in pinhole-free film. The amount of thinner and spray pressure will depend on the specific type of spray equipment used. The spraying should be done under an exhaust hood so that the vapor and mist are carried away from the operator. The recommended ratio of HumiSeal Type 2A53 to HumiSeal Thinner 535 is 1 to 1 by volume, as a starting point. The quantities may be adjusted to obtain a uniform coating.
Brushing
HumiSeal Type 2A53 may be brushed with a small addition of HumiSeal Thinner 535. Uniformity of the film depends on component density and operator's technique.
Storage
HumiSeal Type 2A53 should be stored at room temperature, away from excessive heat, in tightly closed containers. HumiSeal products may be stored at temperatures of 0-100°F. Avoid direct sunlight. Prior to use, allow the product to equilibrate for 24 hours at 65-90°F. For HumiSeal types 1A20, 1C47, 1C49 and 2A64: if coatings are partially used, the container should be purged with dry nitrogen prior to resealing.
Caution
The solvents in Type 2A53 are flammable. Do not use in presence of open flame or sparks. Avoid inhalation of vapors or spray. Use only in well-ventilated areas. Avoid contact with skin and eyes. If contact occurs, wash with soap and water. If swallowed, call physician immediately. Refer to MSDS before use.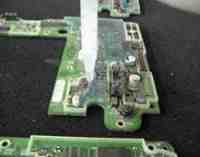 Plasma Ruggedized Solutions is a diversified global technology leader in the engineered application of advanced coatings and encapsulants