BLUE SPARK™ Parylene Dimer
BLUE SPARK™ Parylene C is a UV fluorescing parylene dimer material. Providing high-performance, UV parylene dimers are designed to produce a high-purity parylene polymer film with impressive electrical, chemical, and physical properties and allow for inspection with UV light. BLUE SPARK™ UV fluorescing parylene dimer material has been tested and/or certified to meet or exceed the performance requirements of MIL-I-46058C, IPC-CC-830B, UL 94V-0, UL 746, and NASA Low Outgassing (ASTM E595) as a finished CVD parylene film.
UV Fluorescing Parylene Dimer Advantages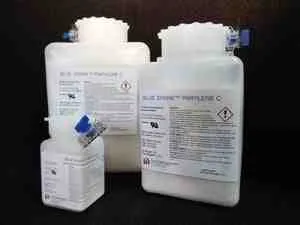 BLUE SPARK™ is a cost-effective and efficient parylene dimer featuring a UV fluorescing tracer. Deposited film using a UV fluorescing agent can be quickly inspected under ultraviolet light. The UV fluorescing agent is an optical brightener that may also collaterally increase the performance of the final film deposit. Other characteristics of UV parylene dimers include the following:
UV Fluorescing material provides the ability to inspect finished parylene under ultraviolet light inspection and retain high-performance properties
RoHS Compliant
REACH Compliant
USP Compliant/Conforming
ISO 10993 Compliant/Conforming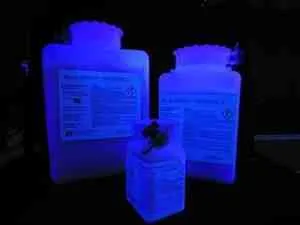 Tested (Pass), meets the requirements of and is Compliant with MIL-I-46058C
Tested (Pass), meets the requirements of and is Compliant with IPC-CC-830B
IPC-CC-830B Certification pending
Tested (Pass), meets the requirements of and is Compliant with Flammability Standards for Self-Extinguishing MIL-I-46058C (ASTM D635), and UL 94V-0
Tested (Pass), meets the requirements of and is Compliant with NASA Low Outgassing criteria (ASTM E595)
Cryogenic Compatible
Vacuum Stable
UV fluorescing parylene dimer, BLUE SPARK™, can also be used with coating and underfill services from Plasma Ruggedized Solutions. Ball Grid Array (BGA) underfill services provide additional protection to sensitive circuit boards using Kronos-10™, an in-house specially formulated underfill material. Plasma Ruggedized Solutions also manufactures Kryptos-17™, a two-part electric potting material that enhances operational protection in harsh environments.  Conformal coating services, including individualized coating services for aerospace, also offer increased protection for circuit boards using parylene dimers.
UV Parylene Dimer Physical Properties
UV fluorescing BLUE SPARK™ parylene dimer general physics and application methods provide specialized tin whisker mitigation performance in a thin film solution. Offering exceptional resistance to water, salt spray, inorganic acids, organic solvents, corrosive gases, and other chemical and mechanical environmental threats, UV parylene dimers protect sensitive electronic applications in harsh conditions. Polymerization occurs at room temperature while under vacuum and displays appropriate adhesion to surfaces.
Our PRS engineering consultants would be pleased to provide any advice on surface preparation and substrate cleanliness before a chemical vapor deposition (CVD) application process—contact Plasma Ruggedized Solutions with any questions you may have.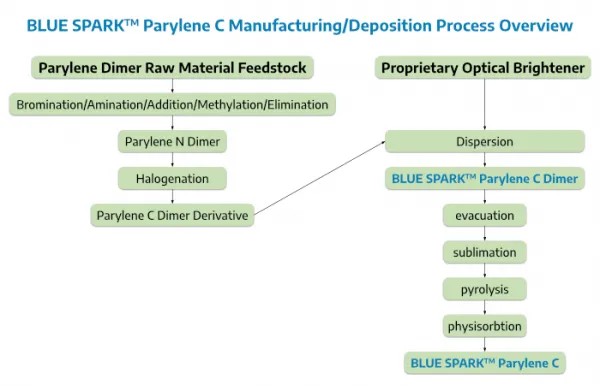 BLUE SPARK™ Increased Adhesion Strength
Adhesion is a major attribute of the PRS product. BLUE SPARK™ offers increased adhesive strength over conventional untreated Parylene dimers without the addition of adhesion promoters/additives. However, this attribute can be further enhanced during the PRS proprietary dispersion process of manufacturing by addition of processes involving vacuum plasma and a special adhesion promoter. 
Industries Using BLUE SPARK™ UV Parylene Dimer
With a host of advantages, UV parylene dimers are helpful in many applications across various industries. Industrial applications that benefit from using BLUE SPARK™ include:
Military applications & electronics
Aerospace hardware & electronics
Medical applications & electronics
Network communications applications & electronics
Consumer hardware & electronics
Applications utilizing UV fluorescing parylene dimers to produce conductive films save time and cost in equipment and personnel. The UV tracer simplifies film inspection and may increase the performance of the film deposit. 
Increased BLUE SPARK™ Adhesion Strength
An essential attribute of the PRS product is adhesion capabilities. BLUE SPARK™ UV parylene dimer enhances adhesive strength over traditional untreated parylene dimer options without adhesion promotors and additives. Adhesiveness can be increased during the proprietary dispersion process of PRS manufacturing through additional processes involving vacuum plasma and a special adhesion promotor.
Contact Plasma Rugged Solutions for UV Fluorescing Parylene Dimers
Plasma Ruggedized Solutions is a customer-centric FIPS-compliant company. We can manufacture parylene dimer solutions and offer additional services that protect sensitive circuit board applications in challenging environments. Contact us for more information regarding our BLUE SPARK™ UV fluorescing parylene dimers, or request a quote today.