Electronic Potting and Encapsulation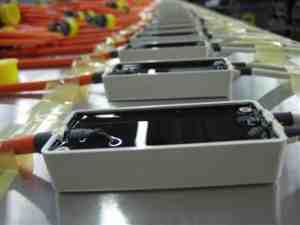 Encapsulated Military Cables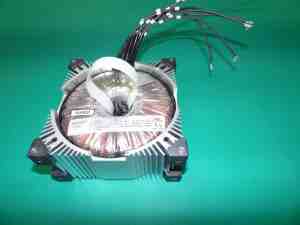 Encapsulated Transformer – Medical Industry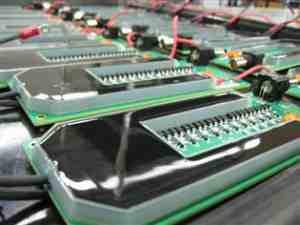 Electronic Potted and Encapsulated Network Circuit Board
Electronic potting and encapsulation involve filling or encapsulating an electronic assembly with a compound to protect the components from shock and vibration, corrosion, and contaminants such as dust, moisture and chemicals. The potting electronics process also protects components from security threats, such as tampering or reverse engineering.
Plasma Ruggedized Solutions is your trusted source for potting and encapsulation services. We can handle any quantity, from first articles to large production quantities. Our experts will help you select the ideal coating material for your electronic encapsulation and potting requirements to ensure superior performance and long life.
Contact us for more information regarding our potting and encapsulation options, or call us at 800-994-7527 and we will gladly answer any questions that you may have. At Plasma Ruggedized Solutions, we are your trusted resource for advanced electronic potting and encapsulation services.
Potting and Encapsulation Services Offered:
Plasma Ruggedized Solutions offers potting encapsulation for a variety of components. Additional advantages of our potting and encapsulation services include:
Custom process development
Both shell and non-enclosure (fence & fill) applications
AQMD compliance
We can also assist in the design of special housings, shells, or other casings for your assemblies to add a further level of security. Every assembly we work with is inspected and, if necessary, cleaned before coating to guarantee uniform adhesion. We also rigorously test each assembly at various stages of the process to verify proper functionality.
Electronic Potting and Encapsulation Methods
Plasma Ruggedized Solutions offers a variety of materials for your electronic encapsulation and potting requirement needs, including epoxy coatings, silicone coatings, urethane coatings, and, to a lesser extent, acrylic coatings.
Epoxy Coatings
Epoxy coatings are ideal for harsh environments and physical security protection and are tailored to the specific needs of your application, including high voltage or thermal concerns.
Silicone Coatings
Silicone potting and silicone encapsulation offer superior protection against moisture exposure and use a more forgiving material which protects assemblies from stress and allows for movement.
Urethane Coatings
Urethane coatings are also useful in extreme environmental conditions, but aren't as hard and put less physical stress on the protected assemblies.
Silicone Potting And Encapsulation
Our silicone potting and encapsulating processes offer an even higher level of protection. This electronic encapsulation method makes the treated products highly resistant to environmental contaminants and direct pressure washing and acts as a cushion or support system for LED components.
Acrylic Coatings
Acrylic coatings are a fast-drying solution for adding protection from moisture and environmental factors for printed circuit assemblies.
Electronic Potting and Encapsulation Applications
Our comprehensive electronic potting and encapsulation services allow us to customize potting processes to meet your needs. Popular electronic potting and encapsulation applications include but are not limited to:
PCBs
Electromechanical devices
Electronic subsystems and systems.
Printed Circuit Assemblies
Primed steel, aluminum or plastic surfaces
FIPS Compliant Electronics Encapsulation
Since potting and encapsulation can enclose an entire electronic assembly, the procedure can be used to make the circuit FIPS compliant. Electronic encapsulation and potting will protect the assembly from unauthorized entry, modification, and reverse engineering, and any attempt to remove the protective material will destroy the circuit in the process.
Plasma Ruggedized Solutions is one of few companies that offer FIPS services for a variety of applications. We have the knowledge and capabilities to provide optimal FIPS compliant electronics encapsulation based on your project's exact specifications. Our continuing innovations help us stay at the forefront of this growing sector of the industry.
Mitigating the Growth of Tin Whiskers with Electronic Potting and Encapsulation
Metal microfilaments known as tin whiskers can form on printed circuit boards and other components over time, leading to shorts, metal vapor arcs, and other issues that affect product functionality. Encapsulating/potting PCBs with epoxy coating or silicone coating helps control the growth of tin whiskers by providing a protective barrier against environmental factors that can lead to whisker growth. Any tin whiskers that do grow are contained within the coating, and therefore unable to cause damage to the PCB or attached components.
Plasma Ruggedized Solutions' knowledgeable experts understand the most effective ways to mitigate tin whisker issues. We can provide products and services that eliminate tin whisker problems.
The Benefits of Potting & Encapsulation
Potting and encapsulation deliver a thicker and more robust solution versus conformal coating to protect your electronic assemblies from harsher environments, tin whiskers, and to keep them functioning properly for longer lengths of time. Specific advantages associated with electronic potting and encapsulation include:
Tampering prevention
Create a barrier against moisture, dust, fungus, and corrosion
Enhance circuit reliability
Protection against voltage arcs & short circuits
Prevents the formation of tin whiskers
Important Considerations for Electronics Encapsulation
Encapsulating and potting PCB requires a high level of expertise to ensure consistent and repeatable results. Special attention is required to ensure the resin is applied at the correct temperature, and that the correct resin-to-hardener ratio is used to achieve the desired results. Coatings must also be properly mixed and dispensed to produce a smooth, even coating.
Our facility employs several unique processes for electronic encapsulation and potting, and many of our techniques have now become standards throughout the industry. Our fence & fill application creates a containment system directly on the circuit board assembly being coated to cover only specific areas of the PCB if a complete coating is not needed. This allows Plasma Ruggedized Solutions to provide a high-quality, low-cost solution for our customers.
To continually engage our customer base, Plasma Ruggedized Solutions strives to remain on the cutting edge of potting and encapsulation technology. We are constantly engineering and implementing new innovative methods and techniques to give our customers the finest service available. We design and create our own molding systems and fixtures in-house to offer high levels of adaptability based on our customer's exact requirements.
Why Work With Plasma?
While our state-of-the-art material application concepts are constantly evolving, we have always operated on four major structural pillars:
1. High-quality NADCAP, AS9100 and NASA-certified engineering services.
2. A constant drive for developing process and safety control.
3. A quality first/customer-centric mentality centered on open and honest communication.
4. Continuous improvement performance (CIP) culture for the empowerment of both our customers and employees
Contact Plasma Ruggedized Solutions for Potting & Encapsulation Services
Plasma Ruggedized Solutions is the industry leader in potting and encapsulation, working across numerous industries to provide solutions to a variety of applications.
Request a quote today, or contact us to learn more about our FIPS compliant potting and encapsulation services.