Cho-Shield Conductive Coatings
Epoxy Coatings
CHO-SHIELD epoxy coatings provide EMI shielding, anti-static protection, corona shielding and surface grounding in a wide range of applications.
CHO-SHIELD 596 coatings are two component, silver-filled systems possessing exceptionally high conductivity and generally providing EMI shielding levels of up to 60-80 dB in the 30 MHz to 1 GHz range. They can be applied with a brush or conventional spray equipment. Both offer excellent EMI and environmental protection when applied to glass, plastic or epoxy substrates. They cure at room temperature, although optimum results are achieved with elevated temperature cure. Request Technical Bulletin 51.
CHO-SHIELD 610 is a highly conductive, two-component silver-plated copper filled epoxy coating for application to non-conductive plastic substrates, particularly those subject to hostile environmental conditions of abrasion, temperature extremes, high humidity, and salt fog corrosion. It dries to the touch in less than one hour, with best performance attained by using one of two accelerated cure cycles.
Polyurethane Coating
CHO-SHIELD 4076 nickel-filled polyurethane is recommended for shielding an entire room. This durable coating adheres well to plaster, wood, glass, concrete, drywall and most metals. Request Technical Bulletin 29.
Acrylic Coatings
One-component CHO-SHIELD conductive acrylic air-dry coatings are intended for EMI shielding of nonconductive substrates. They offer a choice of filler systems that meet varying performance requirements. Silver-containing systems offer lower surface resistivity for better shielding performance. Nickel-filled systems are relatively inexpensive for providing moderate levels of EMI shielding over a wide frequency range.
CHO-SHIELD 2052, 2054 and 2056 silver-plated-copper filled commercial-grade coatings provide high levels of EMI shielding effectiveness, abrasion resistance and excellent adhesion on a variety of materials used for electronic enclosures.
CHO-SHIELD 4900 silver-filled acrylic coating provides the highest levels of EMI shielding, as well as anti-static protection and grounding surfaces. It offers convenient fast tack and drying. Request Technical Bulletin 26.
CHO-SHIELD 4914 nickel-filled coating is a low-cost choice for use on ABS, Noryl and polyester. It is not intended for use on polycarbonate or polystyrene substrates. It features high solvent resistance, fast tack and drying. Request Technical Bulletin 27.
CHO-SHIELD 4916 nickel-filled coating dries to the touch in 30 minutes at room temperature. Effective on ABS, Noryl, polystyrene and polycarbonate, this formulation provides a surface resistivity of <1 ohm/sq. at 2 mils (0.05 mm). It is especially effective in applications requiring 40-50 dB of EMI shielding.
Corrosion-Resistant Conductive Flange Coatings
CHO-SHIELD 2000 Series Coatings provide corrosion protection for enclosure flanges that mate with EMI gaskets. They can also provide a corrosion-resistant conductive surface coating on aluminum or non-conductive composite substrates. These compounds offer excellent chemical resistance, including stability in jet fuel (JP4), hydraulic fluids and motor oil, along with high abrasion resistance even after jet fuel immersion. With copper filler systems that are treated to remain electrically stable at elevated temperatures, 2000 Series coatings are three-part urethane formulations. Request Technical Bulletin 30.
CHO-SHIELD 2001 and 2003 coatings are equivalent except for color — 2001 coating is light brown, 2003 is dark brown. Both contain soluble chromate salts that minimize the effects of galvanic corrosion of the aluminum substrate, even in the event of a coating scratch.
CHO-SHIELD 2002 coating is chromate-free and intended for composite substrates or for use in repairing the 2001 coating. Corrosion resistance has been evaluated in terms of electrical stability of the coatings and their ability to protect aluminum substrates. When tested in accordance with the conditions specified in ASTM B117 (or MIL-STD-810, Method 509.2) salt fog, no corrosion occurs on the aluminum substrate after 500-hour exposure for CHO-SHIELD 2001 and 2003 coatings, and 100-hour exposure for CHO-SHIELD 2002.
Design Issues
Flange design and surface preparation have significant impact on the corrosion resistance offered by CHOSHIELD 2000 Series coatings. All three coatings adhere best to MIL-C5411, Class 3 treated aluminum (use an alkaline etching cleaner to clean the aluminum before the conversion coating step) and to most plastics and composites. For best adhesion to aluminum, Chomerics' 1091 Primer is strongly recommended. For technical and applications information on this primer, request Technical Bulletin 31. Consult Chomerics' Applications Engineering Department concerning the application to other substrates, and assistance with design and material.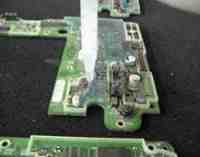 Plasma Ruggedized Solutions is a diversified global technology leader in the engineered application of advanced coatings and encapsulants