Dymax 438-Gel
Moisture Resistant Adhesive Light-Weld 438 Gel
Light Weld@ 438-Gel is a very fast curing, flexible UV adhesive. It forms strong, resilient bonds to metal, glass, and a wide variety of plastics exhibiting high flexibility to minimize or eliminate bond line stresses.
Storage and Shelf Life
Do not expose to UV light source or sunlight. Light-Weld 438-Gel has a one-year shelf life when stored below 320C (900F) out of sunlight in original container.
Caution
For industrial use only. Avoid breathing vapors. Avoid contact with eyes and clothing. In case of contact, immediately flush with water for at least 15 minutes; for eyes, get medical attention. Wash clothing before reuse. Keep out Of reach Of children. Do not take internally. If swallowed, vomiting should be induced at once and a physician called.
The data contained in this bulletin is furnished for information only and is believed to be reliable. We cannot assume responsibility for results obtained by others over whose methods we have no control. It is the user's responsibility to determine suitability for the user's purpose of any product or method mentioned herein and to adopt such precautions as may be advisable for the protection of property and persons against any hazards that may be involved in the handling and use thereof. Nothing in this bulletin is to be interpreted as a representation Of freedom from domination Of patents owned by others or a license under a Dymax Corporation patent. We recommend that each prospective user test the proposed application before repetitive use, using the data as a guide.
Notes
[1] Do not recommend lamps that emit high levels Of shortwave light (for example, more than 15% 200-300 nanometer UV light).
[2] Nominal intensity taken at a predetermined distance. This reading does not reflect the maximum intensity capabilities emitted from each unit.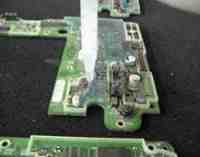 Plasma Ruggedized Solutions is a diversified global technology leader in the engineered application of advanced coatings and encapsulants