Conathane CE-1155-35 A/B Kit
CONATHANE® CE-1155-35 is a two-component, high-performance, solvent-based polyurethane coating system for protecting circuit assemblies in adverse environments. CE-1155-35 is supplied at 35% solids and is primarily intended for spray applications. Application can be made by dipping, however two or more coats may be required to obtain a recommended film thickness of 1.5 to 2 mils.
Storage and Handling
CONATHANE® CE-1155-35 should be stored at temperatures of 65°F-85°F in tightly closed containers. If containers are opened and the contents only partially used, the containers should be flushed with dry nitrogen (see CONAP® Dri-Purge) or dry air before being resealed.
The shelf life of CE-1155-35 Part A and Part B is 15 months from date of manufacture when stored in the original, unopened containers at the temperatures recommended above.
CE-1155-35 Part A contains traces of monomeric isocyanate. Adequate ventilation should be provided during and immediately after application. The use of respirators suitable for organic vapors is recommended. Ovens should be vented to the atmosphere. Avoid breathing of vapors or spray and prevent contact with the skin and eyes. If contact does occur, wash with soap and water.
Availability
CONATHANE® CE-1155-35 is available in gallon and 5-gallon units. Each unit consists of pre-weighed quantities of Part A and Part B packaged in separate containers.
An EVALUATION KIT is available at a nominal cost.
"CONATHANE" and "CONAP" are registered trademarks of Cytec Industries Inc.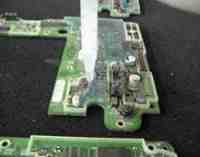 Plasma Ruggedized Solutions is a diversified global technology leader in the engineered application of advanced coatings and encapsulants