What Is Conformal Coating?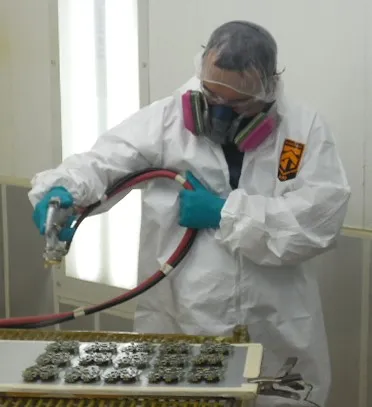 Conformal coating involves applying a thin, protective layer of a high-performance polymeric to a PCB (or designated target). Conformal coatings are designed to form protective chemical barriers over finished electronics assemblies to protect them against extreme environments. Conformal coatings protect against corrosion and provide added protection against the formation of tin whiskers. Severe conditions that can damage a PCB include:
Electrical leakage
Exposure to moisture
Salt, Fog and other corrosive threats
Temperature fluctuation, Shock and Vibration
Fungus
Dust
Shielding Electronics with Conformal Coatings
One of the most critical considerations for PCB conformal coating is ensuring the coating is compatible with your design goals. The conformal coating must meet your assemblies' requirements and be the most efficient solution for your project. Plasma Ruggedized Solutions offers adaptable, case-by-case conformal coating variations to guarantee your conformal coating is the ideal match for your specific needs, from first articles to large production quantities.
Conformal Coating vs. Potting and Encapsulation
PCB conformal coating and electronic potting and encapsulation are two processes used for protecting printed circuit boards, but there are a few differences to consider before determining which printed circuit coating is best for your specific application.
PCB Conformal Coating: used to protect PCB assemblies from moisture, dust, corrosion, and contamination. The process creates a thin, protective layer that is non-conductive and applied directly to the printed circuit board.
Potting and Encapsulation: also provides a protective coating. However, the method involves placing the printed circuit board in a case or shell, then pouring a liquid compound into the case to fully encase the PCB. Both the case/shell and the cured compound become part of the finished assembly.
Choosing Between Conformal Coating and Potting and Encapsulation
Potting/encasing is a conventional method used for high-speed and high-volume production lines for applications involving circuit boards that may be subject to rough impact or mechanical abrasion. Because of its thick coating, potting can make inspection more difficult and is not suitable for applications where PCB thickness is a concern. Plasma Ruggedized provides innovative solutions for your conformal coating, potting and encapsulation needs.
Learn more about electronic potting and encapsulation or contact us for assistance determining which circuit board coating process would work best for your application. Our experts can provide electronic potting and encapsulation services effectively through a broad range of service techniques that are based on your project's exact specifications.
Conformal Coating Selection Services
Our engineering, production, quality control and customer service teams will work with you to create the best solution for your project. We deliver the most in-depth engineering services available for our customers, including guidance for product/conformal coating compatibility in the design and development stages. Plasma Ruggedized Solutions is your trusted source for advanced shielding electronics with conformal coatings services.
 If you have specific questions regarding our processes, please contact us today.
Plasma Ruggedized Solutions Conformal Coating Considerations
Our Conformal Coating Services and case-specific adaptability are second to none, but simply coating your sensitive assemblies is not enough. It is critical that a conformal coating be:
Compatible will all components on the PCA or PCB being coated
Applied to a clean and properly prepared surface
Appropriate for the environment to which it will be exposed
Reliable and durable to extend product life
Cost-effective, re-workable protection
 Interested in exploring the conformal coating possibilities offered by PRS? Learn more about our Parylene (Polyparaxylylene) coating services or contact us for more information on our conformal coating services.
Learn More About Conformal Coating Services by Reading Our Whitepapers
Interested in learning more about how conformal coating services can apply to your industry? Plasma Ruggedized Solutions is an industry leader, with several whitepapers that you can read to learn more about the conformal coating, its applications, and how they relate to your project specifications.
Contact Plasma Ruggedized Solutions Today for Conformal Coating Services, FIPS Compliance, and More
Plasma Ruggedized Solutions is the industry leader in FIPS compliance, potting & encapsulation, and conformal coating services. PRS works across industries, providing solutions for a variety of applications. 
Not sure which application method is right for you? Get in touch with a PRS expert and learn more about our complete conformal coating services.