Circuit Board Protection & Security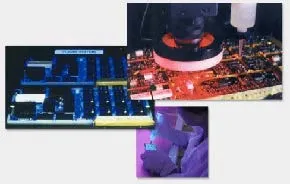 Plasma Ruggedized Solutions offers a broad spectrum of protection and security services to keep your assemblies and components safe from physical and environmental dangers as well as data and information theft. Our unique capabilities allow us to give you the full spectrum of protection and security services to fit any application or requirements. From FIPS compliance processes to heat/cold resistant coatings, Plasma Ruggedized Solutions' experience, technology, and innovation will ensure that your products are protected from any potential threat. The protection and security services we provide include:
FIPS Capabilities and Compliance
FIPS compliance certification is becoming increasingly important throughout the industry, particularly across major informational networks such as those employed in military, banking, and medical applications. Plasma Ruggedized Solutions offers a number of processes to give your products full FIPS compliance, we offer expert assistance in every step of the process, from the first design and engineering stages for your components through the completion of FIPS certification. PRS has the ability to recommend a full range of solutions that can protect your products from tampering, reverse-engineering, and other security breaches. Everything from simple tamper-evidence services to full, pro-active responses can be achieved with Plasma Ruggedized Solutions' FIPS capabilities.
Circuit Board Protection & Security
As more and more products are being used in harsh environments, it is important to provide protection against environmental hazards which can lead to degradation of these assemblies and components. Plasma Ruggedized Solutions' conformal coating, and potting/encapsulation services will protect your products from moisture, liquids, dirt, dust, and other contaminants which could adversely affect their performance. Our processes also ensure utmost cleanliness prior to treatment so that proper adhesion of the conformal coating can be achieved for many years of secure protection. We offer conformal coating, potting/encapsulation and epoxy services using a variety of materials, enabling us to tailor our services to your project's requirements.
Tin Whisker Mitigation Strategies
Since the beginnings of printed circuit board manufacturing, tin whiskers have been a problem. These microfilament metal growths are one of the leading causes of PCB failure, creating shorts, metal vapor arcs and other similar destructive malfunctions. Plasma Ruggedized Solutions has a number of mitigation strategies available to mitigate tin whisker growth. Our conformal coating services provide multiple levels of protection against tin whiskers and the damage they can cause. With our variety of conformal coating, potting/encapsulation epoxy materials, we can create the ideal solution for your specific needs.
Corrosion Resistant Coatings
Most of the conformal coatings offer some level of chemical and corrosion resistance to keep your assemblies safe from harm. Our in-house team of experts will create a unique coating solution based on the specific needs of each customer. Depending on how and where your products will be used, Plasma Ruggedized Solutions will determine the ideal material with which to treat them, ensuring maximum chemical and corrosion resistance for the life of the products. Whether your products must contend with something as simple as salt water or as complex as harsh industrial chemicals, our coating solutions are specially designed to keep them safe.
Heat & Cold Resistant Coatings
Plasma Ruggedized Solutions' conformal coatings offer one of the broadest ranges of operational temperatures in the industry. Our conformal coatings have been tested in temperatures as low as -110°C and as high as 700°C. With incredible heat resistance and dissipation properties, and superior cold resistance, our conformal coatings offer outstanding circuit board protection in even the most difficult of environments. We will work with you to create the ideal solution for your application—our heat and cold resistant coatings have been utilized in aerospace, military, and many other industries where extreme temperatures are found. No matter what the application, Plasma Ruggedized Solutions will help your products withstand the rigors of the extreme temperatures.
Contact Plasma Ruggedized Solutions for FIPS Compliance, Tin Whisker Mitigation, and More
Contact Plasma Ruggedized Solutions today for more information about our circuit board protection and security services. Our team of experts is ready to work with you to create the perfect solution for your application's exact requirements.